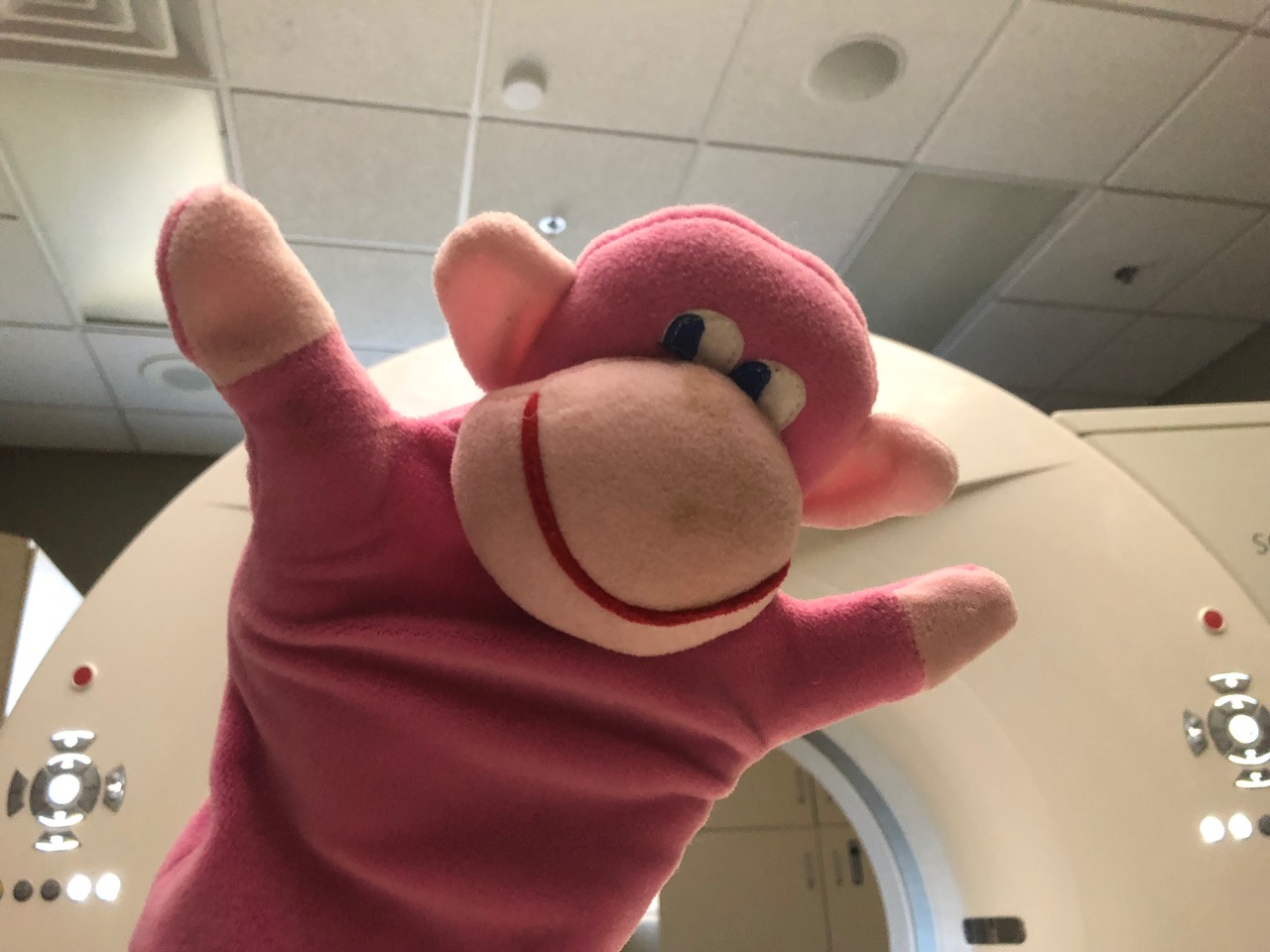 NOTE TO READERS: This is the 25th cancer-related essay on BreakAway since announcing 2+ years ago. Your reading and support marks this milestone and has helped this Survivor get this far. THANK YOU!
HNY! While others were making the rounds of holiday parties, I was making my medical rounds with Mr. Monkey. Santa skipped me this year, I can't imagine why. But I got the best-est gift of all: NO SIGN OF DISEASE. My doctors grinned. Mr. Monkey wept. And into the arms of The Future I leapt.
I keep thinking the test cycle will change and become more breezy. But instead, this time brought a blizzard of jitters. Maybe it's the season—the holidays usher in ghosts of Christmases past and the dismal darkness of December. Maybe it's cancer flashbacks—the clinics trigger gloomy memories and forever feature real, live cancer sufferers. Maybe Mr. Monkey was the wrong companion—as comedy sidekicks go, he didn't exactly kill it with impatient patients and frazzled staffers.
But hey, he was a hit with mychildren—back in the day. Tastes change, I guess.
I brought Mr. Monkey because I've grown weary of one question medical humans often ask: "Are you alone?" I suppose they ask because, if they deliver bad news, they want someone to sneak you out ASAP so they can stay on schedule, obscure the drama, and save on Kleenex. But it gets annoying anyhow.
So this time, I had my snappy one-liners ready. "I'm NOT alone, obviously. I'm with Mr. Monkey!" Or, "No, my caravan of immigrants is on the way." Or, "No, my evil twin is right behind you…don't look!"
One thing that won't change: Waiting rooms remain strange. I have my rituals. Like, bring many diversions, choose a window view, and sit away from the masses. This time, that was a bad idea. You see, the door that takes you into the scanning suite is high-security. So when the nurse opened Oz and called, "Kirk? Kirk?" I waved and gathered up my stuff. BUT—imagine this—the elderly gentleman right by the door popped up and beamed "That's me!" And away they went.
Who ever heard of such a thing? I mean, typically a guy isn't all that eager to visit Scan City, have an IV jackhammered into the arm, and be given 32 ounces of blech® to drink in an hour ("sip it like a martini!" said this cycle's clearly lush-y orderly). But…things change. I suddenly found myself pounding on the door shouting, "Hey! That guy stole my spot! What if you confuse our cancers and give me his chemo?"
The check-in clerk watched me from afar with that look that says, "What is wrong with you?"
Eventually, they corrected the situation. When they returned the jolly old man, the nurse explained, "He's hard of hearing. That's why he sits by the door. His name is Bert. HE THOUGHT I SAID BERT!" she shouted at him. So they laughed and bobbed their heads as though this were the best joke on open-stage night. I slapped my knee and bobbed along.
"Hi, I'm Bert!" said my new friend. So I replied, "Hi Bert, I'm Ernie" with swift wit. The nurse frowned. And Bert automatically blurted, "What's that? You're who? I can't really hear you…" And we left him there to steal other people's scans.
On the next day, when the oncology reckoning came with Dr. Zen, the unusually packed waiting room meant wait…wait…and waiting room. So I took one of the remaining seats—and was overcome by a rare, omnipotent need to nap.
Maybe when the stress maxes out, you pass out.
I became like that guy who can't stay awake in church. I tried the position with your head hanging—and eventually toppled over like a tree. Then I slept with my head in my hands—until they gave out and I tipped onto the nice lady next to me. Then I slid my body forward so I could put my head on the back of the chair. This worked until I began to snore and sleep-slide further forward such that no one could walk around my legs. I awoke to see the cancer crowd staring at me with irked expressions, while one group was trying to wheel Grandma around or over me. I'm pretty sure she thwacked me with her cane.
"Sorry," I said, "I guess I'm pretty tired." "We're ALL tired," said someone (who was not a monkey) from Grandma's entourage. "Get a room!" snarled Grandma as she wheeled by, perhaps not aware of what that expression typically means. I was tempted to "accidentally" flick her wig off, but then was overcome by a slap of compassion.
I look forward to when this routine becomes humdrum. But maybe that will never change. And maybe that's okay, because it offers fresh adventures for my cancer journey and updated inspirations for my cancer comedy career. Not to mention…these scenes force new opportunities to work on grace, grit, and gratitude—survival virtues that can always use a tune-up.
When the appointments subside and the good news settles in, the gray grass seems a little greener. Stepping in frozen dog poop elicits a shrug, not a curse. The crusty lake ice seems perfect for a sundown skate, after all, and the sky rewards with a brilliant explosion of colors.
(Do you realize the sun never really goes down. Stay tuned…)
Mr. Monkey survived his cancer scare and has returned to hibernating in the ever-shrinking bin of my children's memorabilia. I've returned to the (almost) flashback-free reality that is life between Testing Time. And blessings like friends, family, and music remain the vital remedies to weather life's storms and to heal life's ills.
As the Flaming Lips so sagely sing,
"Do you realize that life goes fast,
It's hard to make the good things last,
You realize the sun doesn't go down,
It's just an illusion caused by the world spinning round."
Change. It's the only constant in life. I got this.
Thanks for listening…
PS Got 4m? Please click that Lips' lyric/vid link. You'll be glad you did.