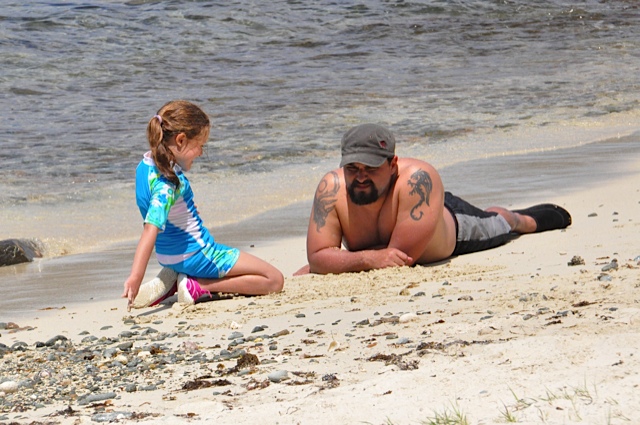 As another Hallmark holiday happens, I pat myself on the back (this time) because I remembered to send a gift—one that I know my dad will enjoy. One hopes this makes up for the dozens of times I probably forgot to even call. With every passing year, I appreciate my dad more and feel grateful he's still kickin', fishin', and golfin'.
This dad can only hope my kids feel approximately the same way, now or later. And as for gifts, I'll take an unplugged Sunday supper—with all devices put away. Maybe help me with the gardens (I have too many). And, oh yeah, cook me dinner: procure, prep, serve, clean up and put everything away. PBJ will do. Just prove you could feed yourself if I kick the bucket list– and lavish me with five KP-free hours.
Dads who rock: Caught in a hard place
A recent WashPost article highlights the rise of the "stay-at-home" dads; a Pew Research Center study found that the number has doubled over the past 25 years. Some dad-advocate groups, meanwhile, contend that the actual number is much higher.
First, let's acknowledge the stupidity of the label, "stay-at-home." I mean, what parent raising their kids as a primary purpose lounges around their crib? They're erranding, heading out for activities, volunteering at schools and daycares, and managing logistics that might rival a wedding planner in these crazy-busy times.
Frankly, it can be a pretty sucky job. Several studies—that focus on moms, naturally—have found an alarmingly high incidence of depression in professional moms who take lengthy career breaks to raise children. I remember one touching essay by a mom longing to get back to work. By most mid-afternoons, she felt like burning down the messy house and swilling her first glass of wine.
Yet for dads, not only has the chief-parent option been largely discouraged, the unflattering stigma has kept many men from even considering the possibility. So how come—for decades now—women's lib has been letting them roar and gradually march toward both equality and freedoms of choice, while men have been expected to work work work?
We've fought for the rights of women, minorities, gays, the disabled, and more. But the mere mention of asking for improvement in areas where dads often get short-shrifted (like primary-parenting and custody) elicits snark, disbelief, or even anger from, well, many women.
Meanwhile, women can now, with any luck, choose between work, parenting, and yes, career breaks. Speaking of, it's no coincidence that research finds that the vast majority of career breakers are women. Same holds true for maternity/paternity leaves. Don't like it, men? Shut up and get back to work.
No one gains from oppression
So on this Father's Day, I salute the admirable way that males have adapted to radical gender role changes at a rapid pace—and generally welcomed women into the workspace, the sports fields, and the VIP positions. Above all, I commend the dads, "stay-at-home" or otherwise, for the countless ways they put others first to make the world a better place.
My dad worked his butt off—with full-time positions featuring long hours and moonlighting jobs to boot. But he was always there for me—and he still is.
That holds true for millions of dads in this country, and billions more worldwide. So happy Father's Day, guys. You rock. Let's just hope that, in the future, that increasingly includes the option of rocking your children to sleep, while putting your day job on hold.