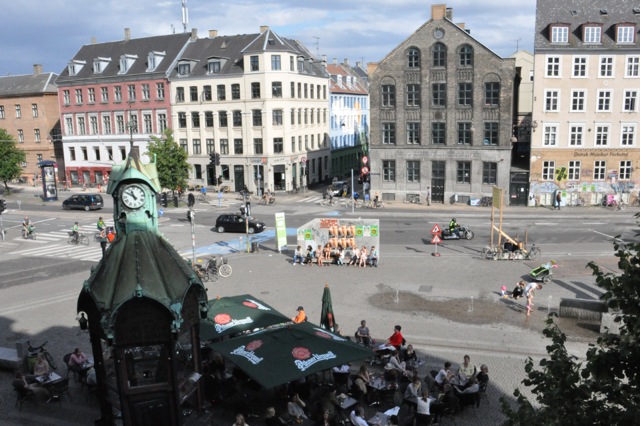 Here's my hot stock tip: Consider taking some money out of the market (especially your internet allocation) and take a getaway, a winter vacation, or a full-on BreakAway. If you've stuck with stocks for the past four years, you've earned it! So, yes: Spend some money now!
We alterna-travelers have bought into one the biggest, brightest accommodations innovations since the lobby bar. Gone are the days when your holiday meant settling for (and in) a predictable Holiday Inn or a risky hostel. Now you can virtually bounce on the bed—and read about other guests' experiences—in 600,000 crash pads and palaces across 34,000 cities.
That number will keep surging. And though Airbnb started as a humble idea (want to sleep on my air mattress for a few bucks?), the site now offers castles, boats, and more for your vacation or business lodging. Many travelers, including those in this household, take advantage routinely.
This picture, for example, shows the sunny view from our spacious, clean, and delightful two-bedroom flat overlooking a hip and bustling square in the heart of Copenhagen. Cost? $155 per night.
That's cheap! And cheap! is not a word one gets to use often when touring Scandinavia. Cheap! would also not describe the value of Airbnb since private investors started throwing cash at this…Big Idea. Airbnb is now 'valued' at $10 billion. (!)
High fives to the vagabonds, right? Thanks to us, the Sharing Economy is alive and thriving; we can avoid overpriced, humdrum hotels; and three young, digital entrepreneurs are now billionaires.
Sadly, the Airbnb valuation may suggest that we're entering another economic bubble. Don't believe me? Then believe NYT's business editor, Jeff Sommer, who wrote the article, "In Some Ways, it's Looking Like 1999 in the Stock Market" this week, citing "stratospheric prices" for Airbnb, Facebook ($150 billion), and King Digital Entertainment (Candy Crush Saga, $7 billion).
As a oft-spanked investor for 30 years, I know how these things usually (always?) end, and it can hurt. Us, I mean. The Airbnb founders and the hedge-hogs feeding them funds usually come out just fine. But…
Meantime, if you've been riding the wave of stocks more than doubling since the Great Recession low in March, 2009, now might be an okay time to consider taking some money off the table to splurge on a trip. You now know where to find 600,000 possibilities!
During that Recession, I often said, "We just need a new bubble." After all, some say we've had about five once-in-a-lifetime bubble-bursting events in a matter of a few decades. But NYT's Mr. Sommer does say, "Maybe not the entire stock market" is in a bubble. Just Airbnb and some other companies in the internet space.
Still, we know how the house of cards can tumble down. And this raging bull market hasn't even had a routine 10% correction since taking off. It's overdue. Are you?
So go for it: Spend some profits; buy some free time. In your memory bank, your experiences may be worth even more than Airbnb.