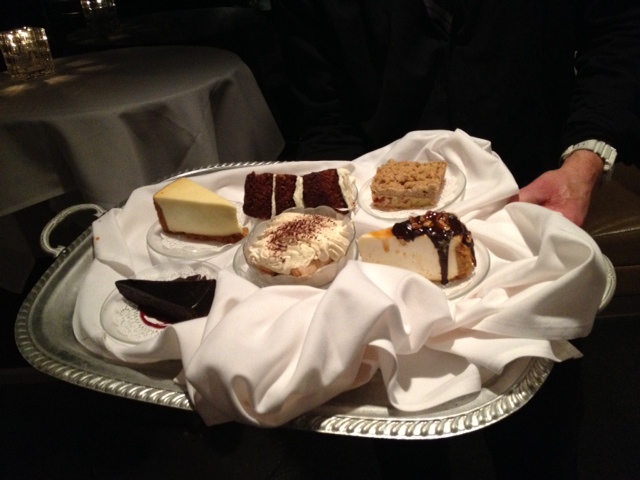 To paraphrase the song, everything old is dying again. In this case, it's a venerable supper club near some swanky suburbs. After a three-generation run—from a family with deep roots in Twin Cities restaurants—Kozlak's Royal Oaks will close its doors next weekend. About 35 employees will face an unexpected career break.
As the photo suggests, Kozlak's has stayed stubbornly old-school in an era that finds most patrons preferring eating over dining, casual over elegant, and quickness over lingering. When was the last time you were presented several rich desserts displayed on a white tablecloth atop a silver platter by a tuxedo-clad lad?  Furthermore, this particular presenter happened to be Kozlak's bartender, who left his solo post in the bustling lounge to dutifully dash to the kitchen and return with the tray to tempt us with the night's confectionary options–while waitrons and patrons awaited his return so they could get their pina coladas and ice cream drinks.
To be sure, there are viable reasons why Kozlak's will close. It happens to sit on a large, lovely property worth north of $1 million. Developers have been waiting for years to build, as it turns out, multi-unit senior housing (a market much more lucrative than Sunday jazz brunches). And establishments like this can get dated and tired, while their clientele gradually flies off or dies off, literally.
It's sad, though, to see a slice of history get torn down. Sadder still, in this final week, is watching neighbors and regulars hug staffers and say good-bye. Restaurants provide an oasis of indulgence and calm; employees become both servants and friends. Unfortunately, for every family-run eatery we lose, another soul-less Applebee's pops up.
Kozlak's owners talk about a possible move to another location. But the obstacles are many; the odds remote. So slow-food guests who still relish a soup-and-salad bar must move on to other menus. And life-long employees face an unplanned career break.
Which takes me back a year or so, when we said good-bye to CVA, a grand arts school in historic St. Paul. In that experience, I saw much hope amid the sadness, and a mature acceptance of moving on for most folks. May this unplanned career break bring the same for the Kozlak's staff—and may they enjoy some unplanned free time and a fresh start when this story ends.