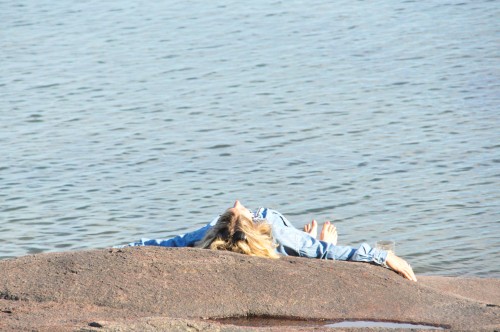 Earlier this week I visited an earth angel who was part of the village who helped raise my children when they were young, and I asked her how her recent one-week vacation was.
Oh, fine, fine," she replied, "It became a staycation so I finally got both bathrooms painted; I had some fun but it was mostly hard work!"
Indeed. If we all had enough time off, wouldn't it be great to take summer vakay, a winter getaway, and still have PTO left to tend to ill kinfolk and home improvement?
But the fact is: Most don't. So the sacred one week off—even per year—has become evermore elusive. Short and close is in. Staycations tried a paradigm-shifting run.
But are opinions shifting?
I suspected as much when a recent factoid arrived like a fresh breeze: 57% of Americans "agree that 'staycations' are a thing of the past, with nearly half also agreeing that a vacation isn't a vacation unless you pack up and leave town." (Source: Kelton Research).
In other words, Let's Go!
Those 7 (or so) daze are the ones you'll cherish, right? So why fight to get your one week of summer bliss? The reasons are endless, but some favorites include…
Your kids will unplug, run, frolic and fish, and thank you very much (for years to come).
You'll catch up on sleep, if not emails (if you must).
In many places, summer shines as the best, blessed season, with free vitamin D from above.
You'll take time to cook creative meals—or get happily lazy and go out.
Strangers and old faces will appear who tell fascinating stories, and are also just delighted to be there, now, with you.
Getting there is half the fun: Fill the road trip with songs, stops, snacks, pics, and spontaneity.
Take time to study (worship?) the clouds, waves, breeze, rocks, birds, and bees.
Re-connect with ever-green traditions like bonfires, hikes, rock-skipping, and floating—doesn't really matter what you're sitting in or on.
Try something new that your environs offer. Sailing? Deep-sea fishing? Wakeboarding? Arts & crafts? Picking ripe berries and cooking wild mushrooms?
When the year is over and not much stands out (other that it was REALLY BUSY), you'll thank yourselves for skipping that lame, more-of-same staycation. Rather, seek some real time to BreakAway to something so superior, like Lake Superior (as seen in this picture), where my SUV will soon be headed.