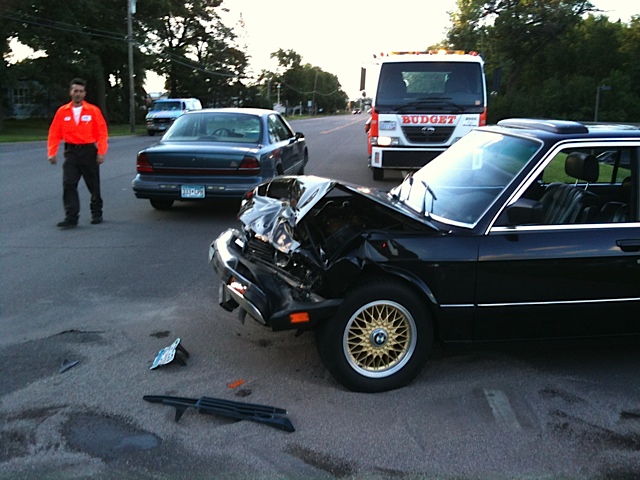 As a jumpy dad teaching his teenager to drive, I have a new respect for the complex privilege. As a recent recoverer from a head-on collision, I carry uncomfortable baggage about distracted drivers. The gentleman who crashed into my vintage BMW, you see, had simply fallen asleep at the wheel. And not for the first time.
I saw the swerves, hit my brakes, and tried to get out his way. But there was nowhere to go. Amid rush-hour traffic, it's miracle the 2-car, head-on mash-up didn't become a multi-car pile-up.
Get ready to see a lot more accidents, much like this one. Prepare to participate, if you like to stay connected or, worse, others do and there's no place to hide.
Cars (and drivers) about to get super-wired
I heard the news today, oh boy: By 2019, more than half of new cars will be wired with voice-activated computer systems that will allow drivers to text, tweet, post to FB, make dinner rezzies, and Google Lady Gaga lyrics. While exciting on the surface, an exhaustive study by AAA (who's typically pro-auto-everything) just found that drivers tending to online antics instead of, say, stoplights, will be severely impaired.
The academician behind the research has already found that simply talking on a cell phone distracts operator attention comparable to driving with a .08 blood-alcohol level. That DWI can, of course, land you, in jail, in treatment, and carless for 6 months. Oh yes, and your insurance rates will likely triple. Assuming you live.  But surfing while driving? Knock yourself out.
The federal government has urged  the car companies to proceed with caution; they won't. The car companies insist they're building in greater safety (are they liars? or just greedy?). The public, who already has shown precious little courtesy or common sense when it comes to abusing digitalia, will likely covet these toys like coke addicts crave nose-candy.  Never mind that AAA calls this evolution:
a looming public safety crisis."
The "arms race" has begun.
Unplugging: losing the marketing battle
Americans are taking fewer and shorter vacations, working longer hours, staying in touch with the office while on vacation (and everywhere else), getting less rest (and exercise), and staying plugged in most everywhere—including bed. (Have you seen the new mattresses that come wired?)
As new driving machines further rewire our brains, we can only hope that the marketing machine for unplugging and taking BreakAways gets equal time.
Don't hold your breath. And don't bother honking when that tweeting driver comes at you, head-on.