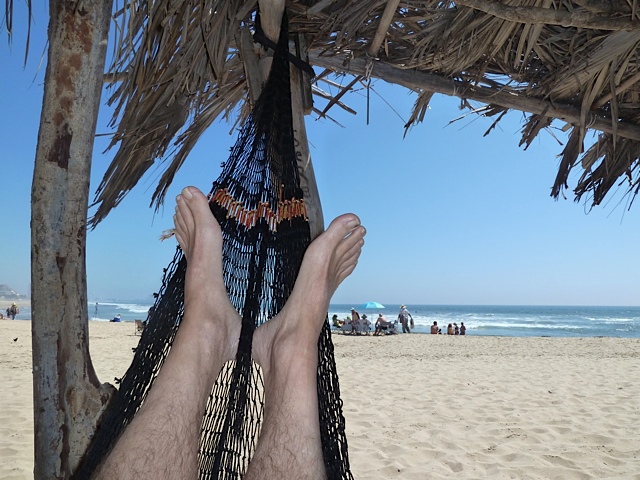 A meager 6-day BreakAway was all the Gods were willing to offer in atonement for this heinous, interminable winter. And though I really shouldn't complain, I will—as the retreat became Dickensian in a fractional way: 5/6 the best of times, 1/6 the worst:  after I brought home a case of severe E. coli (along with some charming souvenirs).
I've spent many moments trying to pinpoint what food (or water or ice) item made my body go much further south than Mazatlan. But I blame myself.
This winter-blues daddy-o has taken the M train at least 6-8 times now with nary a scary fart. So it's no surprise that my one-time divine canons of foreign-country travel hygiene washed away years ago, while even Guidebook 101 common sense seemed superfluous.
All to say, I had a great time. Travel is MUCH more fun (and relaxing) when you don't worry about the dangers that lurk around every corner, cocina, and ceviche. So in celebration of that free-spiritedness we all crave—that may work forever or fail you at any moment—here are some ways to throw caution to the ill wind and maybe, just maybe, make yourself sick in Mexico.
Drink the water. Oh sure, you could always buy your own bottle. But doesn't every hacienda worth its peso already purify their own?
Underhydrate. I always—always!—carry water and sip. But I guess I took a vacation from that practice, too.
Drink too much. Their wine lists are lousy. And I don't love most Mexican beer. But smiling Mexicanos kept bringing me more anyway.
Eat raw fish. Tuna? Mahi? Scallops? Shrimp? Sure. They're abundant.  And so fresh they don't need flame. Throw in a few more I can't pronounce. Refrigerators are cool, but not always visible there.
Eat whole fish. Nothing better. Just keep scraping that flesh right off the bone and eat everything but the eyeballs.
Eat big salads. Finally! Some eateries are serving ample, fancy veggies. Some say skip the salad course when south of the border, but, naaaaahhh…
Take leftovers home. Why not? They might be your lunch sitting poolside tomorrow!
Buy pre-prepared meals at the OXXO (think 7-11). They look pretty good. They're cheap. And God knows you don't go to Mexico to cook!
Eat ingredients that generally disagree with you. I hate onions and garlic. And they hate me. In Mexico, everything includes onions and garlic.
Get tons of sun. Mexico has an endless source. And they share. We vacationers are just making up for lost shine.
Skip washing your hands or using antiseptic. What if the water's not pure? BYO Purell! (If you think of it.)
Shake hands a lot. Donald Trump doesn't do it, and calls it barbaric. For the rest of us, though, it's typically just low-risk politeness.
Eat and drink at several venues a day. After all, you can't cross a street without stumbling into another bar—and many are truly alluring.
Use toilets anywhere and everywhere. Hey, when you gotta go, you gotta go.
Sleep erratically. Those waves are LOUD! Anyway, who goes to the coast to spend those precious hours in bed?
Repeat daily. (And nightly.)
Funny thing is, at about the time that Mr. Belly started mumbling, we were sitting in Mazatlan's best restaurant, Topolo, eating a divine invention that included about five pounds of chopped raw ahi, wasabi, ginger, avocado, capers, cuke—and NO onion or garlic! It went perfectly with Negra Modelo.
Some sad, aging woman was quizzing the waiter about their water and ice and all, "I was just sick for a week!" Moments later, an email arrived from an elder rellie who wondered if he should come to Maz for a golf gathering, "Or is there too much food-borne illness?"
I pooh-poohed such paranoia, slurped some more silky tuna, and ordered another cerveza. The rest is a blur, though I remember a delirious 103-degree fever followed by the worst travel day ever.
Back home on the still-snow-covered tundra, Mr. Belly is gradually moving beyond Gatorade and rice. Meanwhile, Mr. Heart can't wait to get Back to Mexico.