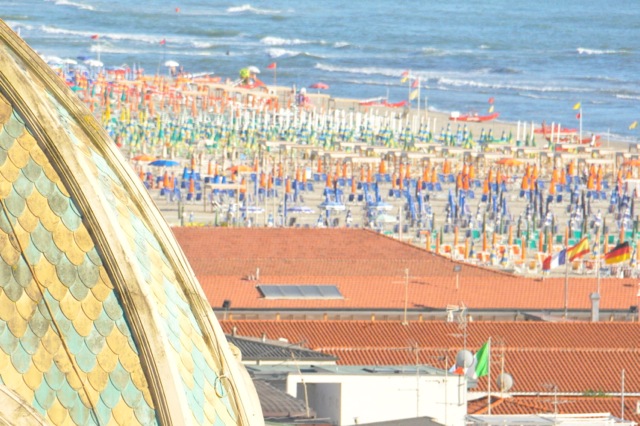 Years ago, I sauntered through Viareggio on a dreary fall day. The place was a ghosttown—so deep into its hibernation that the term "life support" came to mind. There was an empty shabbiness that suggested get-outa-here fast!  But also a fading stateliness and Coney-Island patina that evoked (and promised) brighter days.
Mamma mia, what a little sun and heat can do! This time, the hot winds had whisked the ghosts away. And the early summer frenzy became more palpable by the minute. There must be one million beach umbrellas in Viareggio. And based on their bright, perfect symmetry alone, I'm guessing as many warm bodies will be chilling under them by July.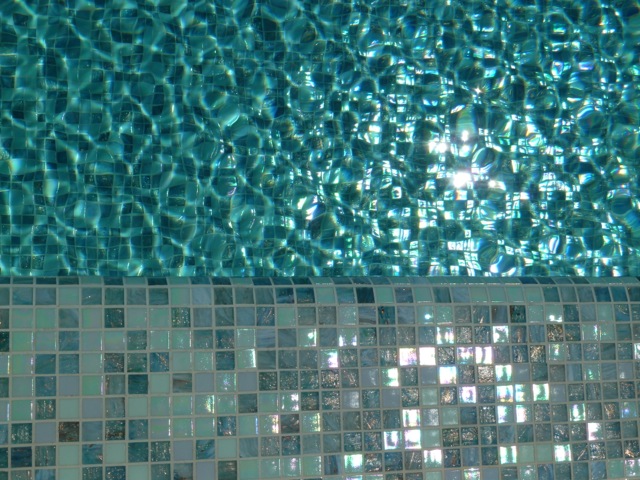 No doubt night clubs happen soon too, but the cool thing to do is check into a beach club, get escorted to your amenities (3 chairs, one little table, one big umbrella for about $35 per day). Our club, The Excelsior, also offered changing rooms, swimming pools, languid lifeguards, and a cheerful bar with chirpy help and surprisingly fine fare.
I mean, is there any bad food in Italy?
This beach stretches for, oh, about 30 miles. And in Viareggio alone, there must be hundreds of beach clubs—to match the hundreds of hotels.  On Day 1, each club's lifeguards agreed that a red flag (high seas) and yellow flag (riptides) was in order.
Okay, the surf was up. But after a few dips in the water—in which one must walk for a few futbol fields before it reaches your shoulders—I sensed a conspiracy.  After all, any time a "swimmer" got out to knee depth, the lifeguard would slowly rise from his comfie chair and yell you closer to shore.
Then, they'd go quickly back to their tête-à-tête, fishing-net-fixing, or cigarette rolling. Another thing they didn't like: If those "riptides" (or frisbee games) moved you to another guard's beach, he'd call you to his chair, look up from his cigarette, and sternly state, "Your beach is over there!" Perfect English. How did he know?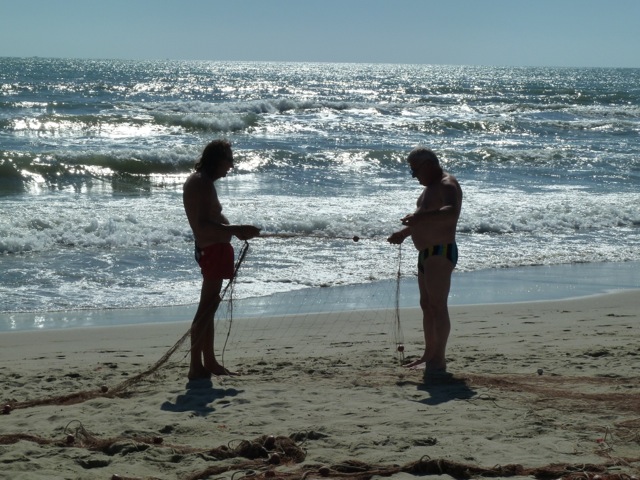 Anyway, one soon learns to mostly ignore the salvataggio, as they do you. In fact, it became impossible to discern which ones were actually working and which were simply enjoying the day.  If there are job openings, I aim to brush up on my strokes.
Vendors, vendors, everywhere
Like most of Europe, Italy remains pretty provincial with only a tiny minority population of immigrants. That said, it's possible that all 4 million of them were on our beach selling sunglasses, imported thingies, cheap jewelry, and various shtuff.
The coconut man had a chant that brought back Caribbean memories, and the umbrella man's operatic tenor and multi-lingual song would make Pavarotti proud. Otherwise, I played deaf and they left me alone, although I did succumb to the magic fingers of a zenny Asian lady's foot massage—the best 10-Euro value ever.
So while most were pesty as mosquitoes, a few simply made the setting more sweet. And while beaches from Mexico to Grenada have tried to sweep away random renegade peddlers, Italy doesn't seem to be much into enforcement of anything  (except, perhaps, Catholic hierarchies).
Moreover, when the merchants would gather under an umbrella (for free), take a break, and laugh in about 55 languages, I couldn't help wondering if they were snickering at me.
Ha, ha ha! Stoic white boy probably paid more to spend two days here than we make in a year, but in a month, he'll be back in frigid Minnesota, and we'll still be on the beach!"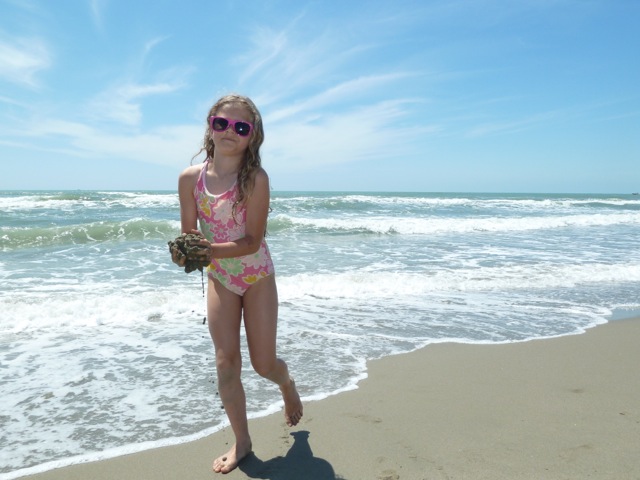 If you want to make your kids happy—and not work too hard at it—go to the beach. Our gaggle of 5 ran and splashed, played soccer, built castles, and exhausted themselves to the point of near-coma before sundown. Bellisimo!
This allowed some adults to sneak away to one of Viareggio's best eateries (as per TripAdvisor) where the tourist-foodie's best phrase, "Mangia bene, spende poco" was redefined yet again. And when we were the last lingering table, Luca (the ubiquitous chef and proprietor) paid us a visit, refused most of our tip ("You silly Americans!"), and sent us home with a bottle of chilled house Prosecco.
And to think some on TripAdvisor describe him as surly. Twinkle, twinkle, little star; what you say is what you are!
On the other end of the spending spectrum, we splurged on the hotel. When you want a seaside room for four and another for five—near each other, with a view, breakfast and rooftop pool—it is not easy to find.  Unless you follow the stars.  All the way up to *****!  Of course, this kind of indulgence doesn't happen often for BreakAway families.  Sunny Viareggio may be once in a lifetime.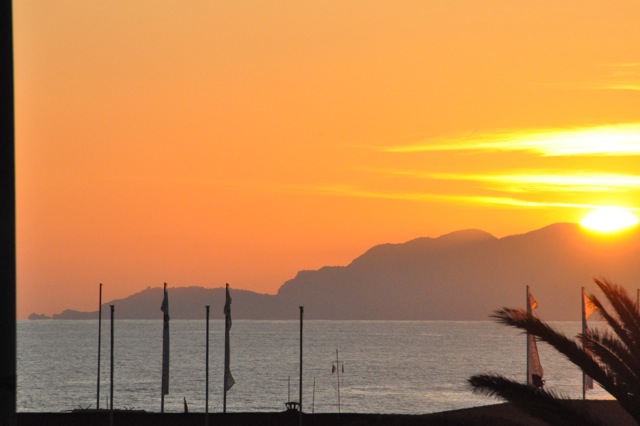 But ain't life grand when you chase a complex vision, throw cash to the salty wind, and get more than you bargained for?