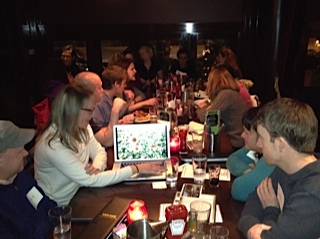 Survey sez:  52% of the happiness we derive from travel is experienced before we even arrive at our destination.*
If that's true, then why not always have a getaway in the planning stages just to boost your spirit?
I witnessed such a "joy of anticipation" at a BreakAway Meetup on Monday of this week.  A good 25 people showed up out of the gray to talk travel, share memories, and say hey to Sherry Ott (of Meet, Plan, Go! fame)—who shared amazing laptop pics of her Mongo Rally journey.
A joyful time was had by all—really!
The most eye-opening part, though, was listening to strangers talk with palpable commitment about their travel dreams.  Dreams?  Make that Realities.  Most of these new friends have already been to exotic places—and most have specific plans for more.
In a few days, one leaves for an extended stay in South America.  Another flies out next week for annual school-building work in Haiti.  One is scheming to restore a storm-damaged catamaran and start a kite-sailing charter.
$5 days in Europe, $5 burgers, and the Battery Killer too
We were also fortunate to host published travel heavy-hitters like Doug Mack (just back from Cuba) and Leif Pettersen (soon off to Romania to write for Lonely Planet).  High-5s to the good service and $5 burgers from Wilde Roast.  And many thanks to the friendly travel enthusiasts whose energy and synergy felt contagious.
To quote the old cliché:  Getting there is half the fun.  That's worth remembering when a BreakAway seems far away.  Keep the faith—and 52% of the joy can set in before you even set sail.
*according to TravelSupermarket