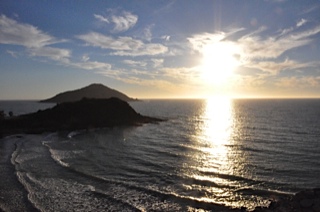 Economic times are tough.  So if an employer offered unlimited vacation time, don't you think the shop would run on empty?  Heck, no:  Few Americans use the modest vacation time they already receive.  So why assume abuse?  One Joe Reynolds of Red Frog Events has turned the tide on vacation policy (as part of the "World's Best Benefits Package"), and his company is going swimmingly.
USA:  Land of the Fried, Home of the Slaves
Survey sez:  Only 38% of Americans take all their vacation time.  The average worker takes only 14 days, and leaves 4 on the table.  That equals $67 billion in "profit" for the employers.  And 72% of the vacationers check in at least occasionally.
You can say what you want about France.  But they do know how to party; the average Frenchie takes 35 of their alloted 37 days.  Vive la France!
Red Frog Grows by Leaps and Bounds
Mr. Reynolds, as the story goes, grew his $45 million event company from a $5,000 investment—while prioritizing worker performance and loyalty.  His workers can run away all they want or need to.  And instead of exploitating his kindness, his people are
unflinchingly focused and devoted to our mission."
He's getting attention, of course, including the Chicago Tribune's Best Workplace award.  Best of all for this boss man:  The vacation policy has such recruiting power that for every opening, he gets 750 applicants.
Mr. Reynolds claims to work hard—100 hours per week.  But when he wrote his recent story for CNNMoney.com, he just happened to to be on vacation.  On an island:
Watching surfers and sipping a delicious Hawaiian brew."
Like we said:  He's turned the tide on vacation and things are going swimmingly.  Maybe the only vacation abuse happening these days is UNDER-use.
So take Joe's advice:  Take your vacations!  You'll do better work.