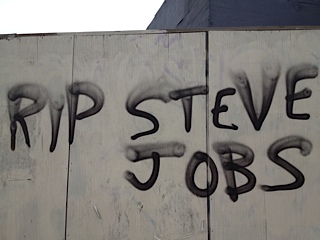 A few days ago, Apple inspired me.  Not in the usual way—with fresh innovation that changes the world—but a with an indifference and boorishness that makes Burger King charming.  Now that Steve Jobs has gone to the other side, I wonder if anyone considers the other side of the ubiquitous Apple influence.
Apple stores differ.  But mine (in Rosedale Mall) is usually more noisy and uncomfortable than a school bus.  They make you wait and want you to hang around.  But even a simple stool can be impossible to score.
Sure, many great people work at Apple.  But sometimes, the Apple attitude turns sour—and takes devotees with it.  What have I experienced or pondered?  Behind the sweet products and branding, here are some unpleasant flavors that can linger…
Rude. If an employee (genius?) is smarter than the customer, that's great.  But when the employee gets short—or forgets basic greetings manners, that's foul.
Arrogance. Rude's older cousin often shows up (especially on the phone)—and seems to enjoy making others feel inferior, slow, or uncool.
Cunning. Apple's marketing represents American materialism at its best (or worst).  No entity has consistently made us crave the fruits of what's newest, next, or better.  If you don't keep up?  They may make you feel 1.0—or lock you and your old gear out of their party.
Conniving. Sure, some Apple products perform amazingly for their price—even if it's usually more than the competition (if there is any).  But like buying a car, the spending only begins with the purchase—and Apple has mastered the art of trapping you into upgrades, replacements, repair, and more more more.
Self-important. Beyond the mercenary, what, exactly, has Apple done to exemplify generosity, compassion and valor?  Some might say Steve Jobs was no Bill Gates.
Narcissistic. Examples are everywhere, but a friend's Christmas story was particularly personal:  This year, at his large family holiday gathering, about 75% of the people were staring down at their screens.  He missed the good old days, when "just us" was the point.  What lexicon did Apple push for most of the products?  i.  i.  i.
But enough ranting.  For now, let's not even bite into the new waves of research about phenomena like tech addiction, texting while sleeping, and online shopping while drunk—to say nothing of the challenges digital-mania presents to parenting, teaching, coaching, and the grand old art of civil conversation…the kind some Apple folks don't have time for.
Mr. Jobs and Apple changed the world.  For better AND worse.