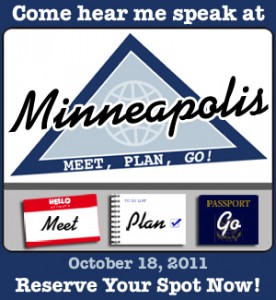 Ever wanted to ask a bunch of experts about how and why to BreakAway?  Well then, please join me and four fun, savvy smarties when we meet up for a few hours on October 18.  We'll gather in Honey, a sweet club by Nye's in Minneapolis, from 7-9, with doors and cheap sips starting at 6.
The event is called MeetPlanGo (this is Year 2) and it's happening in 17 cities nationwide.  Wow!  Please meet your impressive panel…
And, of course, yours truly…
For details and registration, click here.  Hope to see you there!