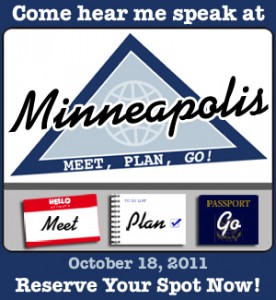 Ever wanted to ask a bunch of experts about how and why to BreakAway?  Well then, please join me and four fun, savvy smarties when we meet up for a few hours on October 18.  We'll gather in Honey, a sweet club by Nye's in Minneapolis, from 7-9, with doors and cheap sips starting at 6.
The event is called MeetPlanGo (this is Year 2) and it's happening in 17 cities nationwide.  Wow!  Please meet your impressive panel…
Julie DuRose: chef-turned-nomad who ate her way around the world for a year–half of it solo after a breakaway break-up–and lived to write about it;
Layne Kennedy: acclaimed photographer who has shot everything from pink dolphins in the Amazon to Inuits in Greenland–for LIFE, National Geographic, Sports Illustrated and more;
Kara McGuire: mother of three and author of an award-winning personal finance column in the StarTribune who knows a thing or two about saving money; and
Leif Pettersen: a freelance writer, insatiable traveler, slightly caustic blogger and semi-professional wino who is a regular contributer to Lonely Planet.
And, of course, yours truly…
For details and registration, click here.  Hope to see you there!