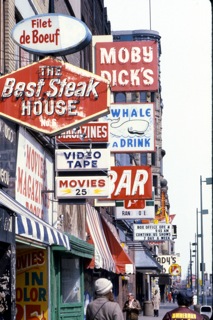 Downtowns are supposed to be places where we can walk, gawk and escape our routine.  Make some celebration.  Stumble on an odd adventure.  And feel the beat of the streets.  When traveling—whether to New York or to Tokyo—who doesn't wander, eyes agog, to take it all in?
I took this picture in the spring of 1981.  After an all-night Greyhound ride from Chicago, I awoke in Minneapolis and took my first stroll down notorious Block E.  The Prudes That Be said it was squalid and scary—and thus eventually tore everything down to erect a mall that has failed.
To me, Block E buzzed with verve and authenticity; even the signage sings, if at times a raunchy tune.  So I hung out there now and then.  After attending Game 7 of the 1987 World Series, I ended up in Moby Dick's and witnessed astonishing elation and conviviality.
Now the Hard Rock crumbles…
23 years later, the soul-less, mammoth mall that replaced Moby's and all the rest is now nearly empty.  Hard Rock will close by the end of the month.  Generic chain joints like Applebee's, Hooters, GameWorks, and Panchero's are already gone.
Perhaps the saddest twist of fate is this:  The new owners who bought the building have big plans of tearing this iteration down to erect a $200 million casino and hotel.
If this is progress, call me old-school.  Like dog poop that you step in and then spread it all over, the porn and strip joints they shut down have simply moved a few blocks to other locations; at least they used to be mostly on one block (which anyone could avoid and where cops and bouncers were abundant).
You could get "a whale of a drink" at Moby's and get a dang-good-and-cheap "filet de boeuf" at 2 AM at Best Steak House.  If the new owners get their way, you can feed your gambling addiction and their pockets instead.
Pictures preserve memories, if nothing else
Like all good career break and travel advocates, I'm also an unprofessional photographer.  Today's news reminds me why.  There's nothing fancy about this image.  Yet it becomes more precious as the years pass—both because it rouses inimitable memories, and because it preserves a vanished scene.