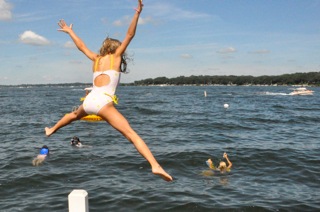 About a month ago, the New York Times offered a "Practical Traveler" article, "Planning the Perfect Vacation." As a recovering perfectionist—and talented vacationer—I found the article to be both insightful and unfortunate.
Are vacations a dying art?
So many people barely bother to vacation any more.  They're too busy.  Can't afford it.  Hate planning.  Or just let it slip away, like so many (dare I say) responsibilities.  Many who do manage to sneak away do so for just a few days; the trend remains for shorter breaks.  And "staycations" have gone mainstream.
That staycation may be a brilliant way to use the PTO days and unwind.  But really, who has mastered the challenge of staying home yet avoiding chores, routines, email/SM/TV/smart phone and all that?
Sometimes countless hours on a hammock with a view or a book might be what the Doctor of Well-Being would prescribe.
Great ideas; too bad we need 'em
Still, a high-profile story like this reminds us to step back and think about our little BreakAway.  Great tips like "Relish the anticipation" remind us that foreplay and faith offer part of the fun.  "Make your time count" means stop sight-seeing; start relaxing.
And of course, "Ditch the smartphone" asserts that less screen time is so much more calming—and that the term "weisure" has landed in our vocabulary to describe the regrettable trend of working while resting.  Yuck!
Hardest working, least happy
Surveys, books, and one's own travels continue to confirm that Americans are among the hardest-working people on earth, yet are also among the unhappiest.  That's a complex disorder to fix, but there are ways each of us can fight that funk.
Like, take your vacation already, before another sweet summer fades away!
It's my opinion that nobody ever regrets opening their minds to the gift of free time.