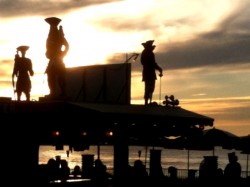 Sabbaticals and career breaks continue to make big news (if you look in the right places).  Moreover, the definitions keep expanding—for better or worse—to include everything from two-days of tax-free shopping to checking into treatment for the umpteenth time.  Serious students of Sabbatical Theory should consider:
The "Snap Year." Brits have forever provided the world's best role modeling for taking a "gap year."  Youth strap on the backpack—and BreakAway—to see the world, celebrate graduation, and delay career commencement.  The number of volunteer heroes has plummeted, though, as has the time period set aside to wander.  Snap year?  My bum!  This most dreadful news.
The Annual Tax Sabbatical. This break lasts only two days—an absurdly short sabbatical by any measure.  Still, whenever you give people a haitus from taxes, they get giddier than Tea Party fanatics at a Michelle Bachman rally.  So whatever you call it, a welcome sabbatical it is!
The Addiction Career Break. Melanie Griffith is pushing spin-dry.  Again.  We wish the best for Melanie, of course.  But really now, how come all that a celeb has to do to get a "career break" is relapse into addiction?  The rest of us would be shipped off to "rehab."  No, no, no!
The Un-digital Sabbatical. Once again, someone smart has been studying this site and taken our advice not only to BreakAway, but to do so sans digitalia.  In this case, our follower shall also pursue much unplugged meditation.  While impressive, it does beg the question:  Why do so many people who do this feel the need to tell all about it on the internets?
The Pirate Break. After a summer of untellable pillaging, high-end parenting, and stormy weather, this BreakAway advocate has snuck away to Okoboji—a neverneverland where pirates rule the day and few other rules apply.  We all need a few places that provide such good booty and revelry.  Happy sails!