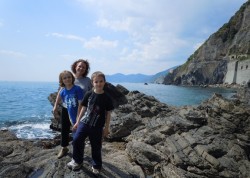 In late May, an email arrived with the poignant header, "The Break is Over."  But next came the good news: "The trip exceeded all expectations (and I had high expectations going in)." Could you ask for more?  Sure:  "Now I just have to figure out how we can do it again!"
Welcome home, Dan Woychick and family.  As we reported in October, Dan ditched his thriving Minneapolis design business, embraced the challenge of home schooling, and flew off into a career break featuring an ambitious Euro itinerary—including the Cinque Terre in Italy, as seen in this photo.
One can only hope Dan found much time to relax because—sheesh!—he sure created an impressive family blog and took time to share insights on his business blog.
But that's the beauty of a career break:  You make time to do excactly what you want—and work on a mission of choice.  For family Woychick, it appears they hit for the cycle:  Relaxation; education; exploration; and illustration (drawing was of Dan's personal goals).
Dan and fam made it back in time for summer—brilliant!  Here, Dan takes on the 11 questions every career breaker must answer upon returning to reality.
Biggest getaway challenge
Initially, the biggest challenge may have been wrapping our arms around the trip planning – every day a new detail to add to the list, then each one splintering into little sub-problems to solve. Eventually we pieced together a workable travel itinerary thanks to a small group of trusted advisors and websites. One of the biggest challenges was deciding how to have enough reading material for three voracious readers. Solution? Two Kindles, plus leaving paperbacks as presents whenever and wherever they were finished by all.
Arriving in Paris on a fine Spring evening and dining al fresco in the Marais district with our giddy boys. We floated home around midnight, slept in until 10:00, and the beignets, pain au chocolat, and incredibly fresh strawberries the next morning were a wonderful welcome to France.
There were a lot of great moments and great days – most of them involve watching our boys having fun – but I don't know that I could single one out. I'd like to return to England, Paris, Rome, Cinque Terre, and the Greek Islands, and visit lots of other places we didn't get to on this trip.
We had some inconveniences, but I wouldn't categorize any of them as nightmares.

An unspecified strike in Rome the day we were scheduled to arrive left us a few train stops short of Roma Termini station – with no idea where we were, why we were there, or how to get to our apartment.

Similarly, an announced strike in Greece had us reshuffling our plans. We switched from a two-hour ferry to Sifnos to a six-hour ferry and cut our stay in Athens by one day.

Beware the travel days!
On one of our last days on Sifnos, near the end of our trip, as the boys played in the surf and we enjoyed beverages from the beachside bar, I turned to Rebecca and said: "We did pretty good." I was proud of what we had set out to do as a family. The trip exceeded expectations at every turn.
See the story of our lost day in a Paris train station as our overnight sleeper car to Florence never showed up.
On a day trip to London, after seeing the city from the London Eye, we wandered the banks of the Thames enjoying the street performers. Eli, our youngest son, was chosen by a Charlie Chaplin impersonator to become part of the act. The kid may have a future in show business! Here's his story.
The strangest – for Lucas, our ten-year-old – was when he decided to be adventurous and ordered a seafood platter that included some creatures that would have been better left in the sea. Most annoying? Pushy street vendors attempting to sell their wares while we tried to enjoy a meal in Rome.
This was one of our worries, but about the worst we experienced were some blisters from walking so much in Florence.
This was the right thing to do at the right time for the right reasons. Many have described it as "the trip of a lifetime." I hope not. I plan to keep on living – and taking trips. Whether going to Cub Foods or the Caribbean, just about any trip can be a worthwhile experience with the right attitude, a little good fortune, and the right companions.
The first few days back I saw Minneapolis with fresh eyes – I like my home and my home town! There's maybe a little letdown in that there isn't currently something big to aim toward, a sense of being neither here nor there, but I'm sure we'll dream up something.