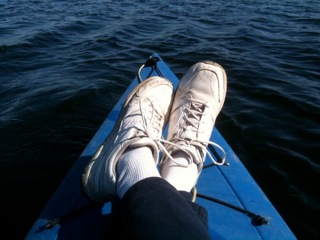 You meet the most interesting people in cyberspace.  One of them who recently crossed my vector is the talented Alexis Grant—travel writer, social media coach, and career-beat journalist for US News and World Report.
Like so many of us, she's become possessed by this notion of career breaks—and thus interviewed me about my experiences, ideas, and jabberwocky.  I enjoy nothing more than practicing Sabbatical babble, so we had a lovely converation.  Lexi recently extracted one particularly brilliant quote for her most excellent blog.
If you say you never could do that, you certainly never will. But every one of those obligations is a choice. Getting up in the morning is a choice. Taking your kids to that game, going to work. You face hundreds of choices every day, and you just keep saying yes, yes, yes to them. And that's great, and that's what gets you through the day and gets you success. But there's also the choice to sometimes say, I don't want to do that, I don't want to work every day of my life." (Kirk Horsted)
My deepest thanks go to Lexi—not only for the post, of course, but also for the reminder.  Because, here, today, the new summer routine of playing chef, chauffeur, and chaperone to my kids (8 and 14) has gotten out of control, particularly when piled atop countless other obligations that don't take summer vacation.
So sometimes, a guy's just gotta say No! No! No! And then say YES to yourself when pondering,
Would I like to sneak in a kayak ride right now?"
On that note, the water calls.  Summer is here, life is short, and breaking for solitude and exercise is the right choice!
Thanks again, Lexi.