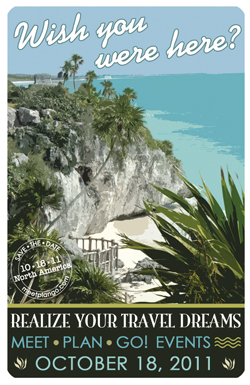 Is there a trip to someplace interesting on your Bucket List?  
Do you have an unscratched itch for travel?
Have you ever harbored fantasies of taking a break from your career to spend time doing something you REALLY love?
If the answer to any of these questions is yes, I invite you to join me (your affable host)—and a panel of pros—when we gather for the 2nd annual Meet, Plan, Go, a national meet up conversation on career breaks. 
SAVE THE DATE:  Tuesday, October 18, 2011
Here in Minneapolis, last year's event sold out quickly and went SRO as 100+ dreamers and schemers swarmed our venue, a Honey of a bar that did a super-sweet job of making us feel at home while helping us envision flying away. 
You'll meet all kinds of fellow travelers, catch some journey buzz, and leave with a cool goodie bag too.  And while last year's attendee evaluations left our humble panel blushing, we will stop at nothing to try to make this year's even better.
I think most of us assume that (1) we can't leave our jobs and (2) we can't afford it. The three panelists showed us that it can be done, how to approach our bosses, how to handle the money, and I hadn't even thought about international volunteering until I went to this.
It was great that three different people with different experiences could offer their views on all the topics.  
Kirk did a bang-up job hosting the Minneapolis MPG. Thank you Kirk!"
Want more details?  So do I!  So stay in touch as the Minneapolis shindig takes shape.
Meanwhile—as in immediately—please surf over to the MPG site.  Sign up for the Meet, Plan, Go newsletter.  And do the "LIKE" thing at the MPG Facebook page.  
Stay tuned.  Thanks!