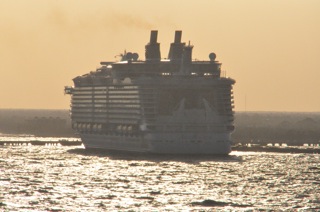 This vagabond has vacationed via all kinds of vehicles and means: planes, trains, autos, buses, helicopters, hovercrafts, ferries, fishing boats, sailboats, mail boats and more.  But a big, fancy cruise ship?  That's a new one.  So the time finally arrived—in this winter of climatic discontent—to set sail on a vessel featuring a shameless menu of amenities on board.
A good time was had by all.  In fact, one week later, some cruisers are probably still recovering.  Yet amid the remoteness and soothing blue Caribbean water, the one wave that kept splashing salt into my eyes was the absurdity of escaping into a never-neverland of indulgence while so many in the world are hurting.
In Japan, millions suffer from an earthquake, tsunami, and nuclear meltdown.
In the Mideast, millions march in the streets fighting for basic human dignity (and sometimes, their lives).
In the US, millions remain homeless, hungry, or unemployed while surrounded by enough riches to provide plenty for everybody.
I blame TV.  As one who watches no TV news at home, and edits other sources, I couldn't resist the odd thrill of channel surfing while floating far away from reality.  The fresh images of unheard-of hardships everywhere else provided ongoing, sobering, reality slaps.
You can sail away, but you can't hide.  Life on this complex planet includes both the amazing sea and the anguished masses.
No wonder we need to "get away from it all," or at least try, now and then.