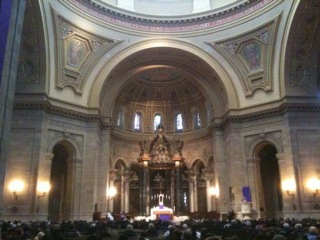 Spiritual seekers keep an open mind—and enter open doors.  On Ash Wednesday, my car parked itself and my legs followed hundreds of others who were quietly striding over the ice to commemorate the first day of Lent in the astounding St. Paul's Cathedral.
Ash Wednesday is no party.  Rather, most denomonations commemorate this sacred day with darkness, silence, and introspection.  The presiding priest reminded us that Easter season is a time for…
Prayer…"I want, I will, with God's help, to be holy." (Mother Teresa)
Fasting…Pass over the things that are not truly valuable; ask for needs, not wants.
Alms-giving…"Lent is radically hopeful."
With any luck, spiritual seekers also partied their brains out on Fat Tuesday, the rash bash that happens before Ash Wednesday.  But for now, the opportunity has arisen to consider living with less while striving for a higher consciousness for about 40 days and 40 nights.
Funny, but sometimes when you say no to unworthy distractions, you find ample time and energy for what matters most.
That can hold true for enlightenment, relationships, and coveted dreams—including BreakAways.