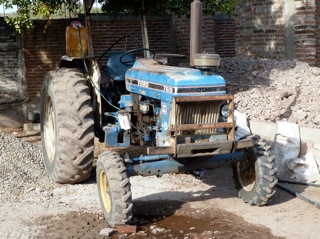 Like this tractor, most of us will keep running and working for a long, long time.  Like this tractor, we need to take a break (brake?) now and then.
Yes, just about everyone will have gaps between jobs—whether you like it or not.  Let's do the math:
The average job tenure is now 5 years; most folks will work about 50 years; that's about 10 career break opportunities between gigs!
When presented with the idea of a BreakAway, most folks' first response is, "Oh, I could never do that!"  And yet, isn't it likely to happen at some point?
If you don't find your career break, maybe it will find you.  With so many jobs and so little free time, we can only hope.
It pays to be ready.
Survey sez…
5.2 Median number of years that full-time workers stay in their jobs (in 2010).
5.1 Median job tenure for women in 2010, an increase from 4.2 years in 1983.
5.3 Median job tenure for men in 2010, a drop from 5.9 years in 1983.
Employee Benefit Research Institute