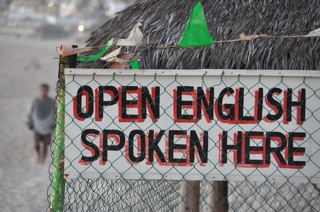 Isn't the internet great?  Sometimes yes, sometimes not so much—like when you need serious assistance.  In the past week, I've gotten trapped in enough online snares to miss the good old days of Ma Bell Hell.  Here are just a few of these head-banging incidents…
Gift card / sports store. One offspring gets a gift card, so we go to the store.  As these things go, we find $200 worth of stuff though the card value is only $100…
Them: After ringing us up, the checker says, "Oh, this is an online gift card.  We don't accept those in the store."

Us:  "Hmmm, is there anyway around this?  We only came in bacause of the gift card."

Them:  "No, but you can put back all your merchandise and then go buy it online, if it's there…"
Autopay form / department store credit card. Autopay is a win-win-win, right?  It makes life better for the store, the customer, and the environment.  So when the online sign-up failed to function, I called the store…
Us (after a long, long wait and punching many digits—which eventually needed to be repeated to a Human):  "Hi.  I'm unable to complete the autopay form online, so you could mail me one?"

Them:  "Actually, for your convenience, you can just print it from our website."

Me:  "Okay, but I'm not at my computer now, and my my printer needs ink.  So could you kindly just mail it me?  I'll take it from there…"

Them:  "Actually, we don't mail that form.  What number may I fax it to?"

Me:  "Actually, my fax isn't hooked up and I'm not at the office.  Can't you please just mail me one?  Or ask someone who can?"

Them:  "Well, we don't do that, but let me talk to my supervisor."

L o n g                              w a i t

Them:  "Okay, just this once, my boss said we can mail you one.  It might take a few weeks tough.  How else may I help you today?"
Vendor recommendation / municipality. The gardening to-do list takes a break during winter, yet dormant plants and a blanket of snow make it the ideal time to take down a dead, old ash.  My municipality prefers that you use vendors that have a proper local license, so I try to comply.  When my usual cutter does not appear on the online list, I call in…
Me:  "Hi.  I'm wondering if you can tell me if a tree service is still licensed and recommended by my fine city."

Them:  "Great!  But actually, you can just find that information online."

Me:  "Yes, I'm on that page right now, but my vendor is gone."

Them:  "Oh.  Well, we may be behind on keeping that list current."

Me:  "Great!  So tell me, should Grizzly's Tree Care be there?  They always were in the past…"

Them:  "Hmmm, let's see.  Ya, sure.  They're current on the license and everything.  Go ahead and use them; they do good work."

Us:  "Yes, I agree.  Nice to know someone does.  Thanks for your 'help'".
Having just returned from a BreakAway in Mazatlan, I'm temporarily smitten by the notion that, in some places, real people still offer unplugged service—and don't just bat you back to your cold, lonely screen.  Because they probably don't even have one.  Because they value things like human contact, attention, and having a job.
Thanks for listening.  I have to go now—to pay a bill online, renew an Apple service online, and resolve a payroll discrepency online.
Wish me luck.