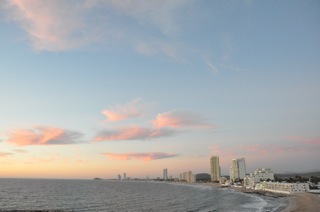 Scholars and slackers worldwide continue to debate what, exactly, constitutes a BreakAway.  So some of us fervently continue the research.  Does one measly week in Mazatlan qualify?  Possibly.  After all, a guy has broken away from the fam and fray.  Yet one week smells suspiciously like vakay.
But we're supposed to love the questions, right?  Well then, let's revisit some basic BreakAway theory and see how this trip stacks up.
Mazatlan Faces the BreakAway Basics Litmus Test
Did I go far away?
Maz Mex certainly is all news to me, since I've never biked their long Malecon or meandered their magical old town.  Yet Mexico is familiar like an old sombero.  And while worlds away, the flight from MSP sneaks here in four hours.  Hmmm…
Is there time for both solo and social?
A sweet suite with a deck view of early Paradise makes some ME time a no-brainer.  Yet I'm here to get crazy over turning 50 with two lifelong friends—one a Malibu entertainment attorney who hangs with the stars, and the other the ultimate free spirit who hangs from them.  Hmmm…
Did I travel light yet log the journey?
When escaping the January grind, can one leave it all behind?  Perhaps:  The iPhone rarely rings; the emails stay in their box; and the catamaran adventure to an island requires only shades and watershoes.  Yet here I am, working (?) on my MacBook Pro and downloading digital pics.  Hmmm…
Can I keep it edgy but keep it smooth?
Travel promises adventure—and one may ride into more when racing dilipidated bikes down steep streets, kayak–surfing waves through island rocks, and wandering foreign 'hoods alone late.  Yet I'm soaking up hot tubs, beach feasts, and cerveza and sunshine.  Hmmm…
Will I stay on budget but forget about finance?
These experiences are, well, priceless.  You can't buy belly laughs and heartfelt talks with old friends—or seeing the sun set into the Pacific seven times.  Yet budget-creep sneaks in like a scorpion, like when this Gringo overpaid a cabby 12-fold (my bad; his good karma).  Hmmm…
BreakAway Si?  Or No?  What's Your Final Answer?
So in the end, deciding whether a quick, watery week meets the criteria challenges even the alleged experts.  On one hand, a bartender last night so enjoyed my enthusiasm for finally finding beer on tap that he kept refilling my glass (on the house).  What a metaphor!
On the other hand, I know that it can take a week to unwind.  And before you've really unpacked, you're atop a tarmac and whisked back into your reality where larger piles await and nothing has changed—only you.
So si or no?  No se'.  (I don't know.)  But of this much I am sure:  Deeper research is in order.
:  )