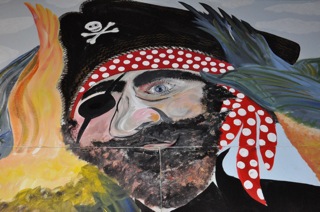 Finally!  Career breaks and sabbaticals are getting their moment in the sun.  Doers and dreamers are coming out of the woodwork–sharing their passion and stories.  Into this mix, another savvy trekker has stepped forward…  
Meet Michael Schneider, author of the blog On the Other Guy's Dime.  (No, this is not a rendering of Michael, but rather a metaphorical depiction of his swashbuckling nature.)
I met Michael at our most recent Twin Cities BreakAway MeetUp and he filled me in on his Big Idea, which can be summarized thusly:
"Learn how to live and work abroad without having to reach into your own wallet or give up your regular day job. I have done it 14 separate times and you can too."
Michael's got this thing figured out.  In fact, he wrote the book on it!  
He also invited me to speak out on his blog, which of course I took him up on…
As one who has always raided my own booty for career breaks, my guest post tells a decidedly contrarian tale.  But would I considering working (for pay!) abroad instead of footing the bill myself? Sign me up!
Among his many accomplishments, Michael is a professor emeritus at top-notch Macalaster College in St. Paul—and an expert in taking paid (yes, PAID) assignments at exotic international locations.  He's lived and worked abroad 14 different times, from Australia to Zimbabwe. How the heck does he do it?  
He tells all, in the book and the blog—including tips, opportunity postings and more. So go for my guest post.  But stay for the inspiration and to find out about out-of-the-blue and under-the-radar opportunities like, say, "Seeking Software Engineering Lecturers in Vietnam!"
What have you got to lose?