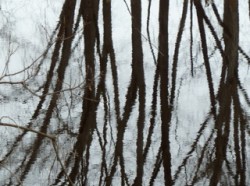 Happy birthday to Me. Yep, it's arrived: The Big 5-Oh.
Now there's a number that screams for extreme measures. So I made a list of, oh, 50 things I might do to commemorate, celebrate, and contemplate. For the contemplation bit, a BreakAway retreat beckoned. Naturally, I wanted a spa with massage and sushi. But I chose a remote river cabin instead.
The point: Be still. As in, "Be still and know that God is God." Not the pope, not you, not even me at 50. A prayer pamphlet on the fireplace mantle says healthy spirituality requires persistence. My marked-up copy of "Nothing Special" by a Zen master insists serenity takes practice.
Practice? Damn! Can't someone come up with some new secrets and shortcuts?
Should the maudlin come calling, you can't mess around. So I allow diversions—as need be. Light the fire and candles. Play some guitar (and iPod Gospel) when the silence gets shrill. Cook up healthful grub grabbed at the co-op on the way. Take pics of the river running by.
River. Old Man. Like the years, that thing just keeps rollin' along; what's the rush? Yet it's effortless to sit still beside wild waters. For one thing, my body-mind-spirit is solar-powered. Dash outside and catch some rays? Impossible. The sky, water, and horizon offer only shades of grim.
The Gods must have a crazy sense of humor to give me a November 30 birthday. Ha ha ha. The nine months this soul spent in-utero happened to be the warmest and brightest, while I gestated in the darkness."
Hence, birthday festivities are forever fated to coincide with Seasonal Affected Disgruntlement. Deal with it.
For a retreat space, this knotty-pine shanty has ample creature comforts. So I gradually reorganize chairs, lights, and tables to my liking—and make a big mess. I must enjoy nesting, and still don't travel lite. Soon enough, I'll put every thing back in order, wipe away any evidence of my brief existence, and move on.
Moving on: Isn't that what it's all about?
With apologies to the hokey-pokey, five decades teaches you a lot about moving on. You can seize the day, but you can't keep it. Your youth disappears like a blossom in the current. And your own toddlers are teenagers before you've tossed their Thomas the Tank Engine toys.
Honestly? I'd like them back. Not Thomas, but the days. Oh, to wobble around the carpet again with my droolers, hook up with my adolescent entourage as we prowl fearlessly but aimlessly into the night, and recreate college but with more romp and less circumstance.
But no. Those days gushed into the mush that brings me to exactly where I am. Yet, one trusts, the past that brought us here will carry us around the bend. This river water was so far away yesterday, will be God-knows-where tomorrow, yet is also here now. Be Here Now.
That's what a retreat offers: A chance to sit with the past, present, and future—and see how they somehow flow into one lifestream; e'er the Twain shall meet. Such romantic notions warm my heart during yesterday's pursuit of inner-peace through kayaking. But gradually, the darkness, like the dirty water, surrounds me.
Decomposing jack-o-lanterns with twisted smiles line the banks. Spooky. Gunshots echo through the woods and bullets bounce off trees. Deadly. Recent heavy rains and snows make the current swift with logs, dock chunks, and trash. Dangerous. A cat with one ear and sick eyes wins our staredown. Ick. A deafening motorboat with three camo-clad rednecks passes way too close and makes rough waves.
Enough creepiness—so says my survival instinct. Night is falling early (hey, it's November); head for shore.
As I hurry, so do 50 wild turkeys—dumb as bricks and barely able to keep their heads above water as they flail from an island and barely miss me. Thanksgiving? Yes, it's that time of year too.
The Grateful Not-Yet Dead
Amid the haunting omens, I choose to interpret the klutzy turkeys as carrying the only message that flies: Gratitude. "Oh the Lord is good to me, and so I thank the Lord," sings Johnny Appleseed and happy congregations before potluck suppers.
Still, once inside, it takes some scalding 70s Rolling Stones and a long shower to wash both chill and demons away.
But that was yesterday's voyage. Those things have passed. For now. So let go of these digital crutches. Get out of your head and hut. Walk full of grace into that bracing, gray November day. Go paddle that perilous river—while you can.
Afterward, go ahead—sip some wine if you feel like it. It's a Christian Brothers retreat center, after all; what righteous wine snob didn't practice on gallons of their sweet Burgundy? Blood of Christ! Water into wine! Maybe a midlife miracle (not crisis) awaits those with faith!
After the paddle, raise a full glass to floating through five decades. No revelations. No regrets. No one but myself to toast with. But it's good to be here.
Still.