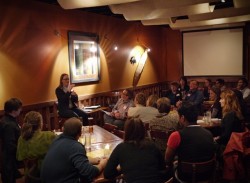 The Minneapolis BreakAway branch proudly hosted Sherry Ott, travel guru extraordinaire, for a merry meetup on Wednesday.  Some 30 souls showed up—representing everything from experienced around-the-worlders to die-hard dreamers and schemers. 
People mingled comfortably; we even ran out of name tags.  Many stayed well after our two hours of informal presentation and Q&A.  In fact, Sherry and I barely got our dinner order in before the kitchen-closing hard-stop of 11:00. 
As usual, a host like myself leaves an event like this exhausted, inspired, and humble.  After all…
At least half the people there have traveled at least as much as I have, and many have lived overseas and become fluent in other languages. 
Many are proud budget vagabonders—wearing backpacks, surfing couches, and conquering third worlds with the ease some of us do Oslo. 
The tales of woe—illness, accidents, stolen passports, holdups—make this tough gang only more stubborn and fearless. 
This crowd was delighfully diverse.  There were Uptown natives and travelers from other countries, old and young, couples and singles, edgy urbanites and dolled-up suburban moms.
Thanks to all who showed up—literally and metaphorically.  Big ups and high-fives to my friend and collaborator, Sherry Ott.  We'll keep our eye on her—if we can!