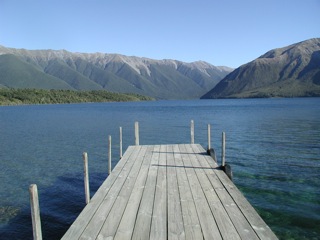 If you're not busy this Wednesday, there's a great gathering happening.  I'll act as host with the most.  But the real reason to show up is to meet a real, true travel guru…my friend, Sherry Ott. 
We'll be at Calhoun Square in Uptown, inside Chiang Mai Thai's way cool private room, from 7 – 9p. Taps will be a mere $3 and wine $5. Food service will be available. And we'll keep it informal; our guest will tell tales and lead the chat for the first half or so. And then we'll just mingle and mix it up and sip as we see fit…
Sherry Ott is a world-class travel blogger, an uber-worldly traveler, and an expert on topics like going it alone or finding a travel mate, long-term stays, finding overseas employment, and making dreams come true on a budget.
Oh yes, she's also a founder of Briefcase to Backpack. Host of Ottsworld. And of course, a creator of the recent 14-city career-break-fest, Meet Plan Go, which got written up in a Sunday New York Times story ("Making the Dream Trip a Reality.")
She's rarely in town, so don't miss out!
RSVP if you can with via the official Twin Cities BreakAway Meetup site—or just drop in. 
If you have questions or need more info, let me know. Hope to see you there!