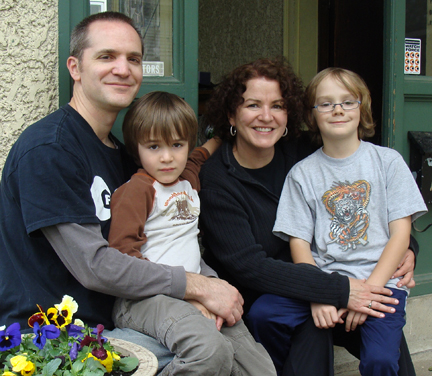 Speaking of career breaks and work/life hacking, here's a true story about the Woychicks, a Minneapolis family that's a shining example of the sabbatical mindset.  This intrepid family is embarking on a one-year (or longer) adventure—and new way of life.  I've been pleased to meet (dad) Dan via some meetups and speaking gigs and through our intersecting professions.  Now it's their turn to BreakAway.  Quick—meet them before they take flight! 
What inspired you to leap beyond dreaming and actually make a sabbatical happen?
Life is short. This point was tragically brought into focus when my parents were killed in a crosswalk by an impaired motorist as they walked home from church on August 19, 2009. In 2010, we said goodbye to our two good dogs, Buster and Ray. And, before they lose interest, we want our boys to discover the joy of learning and trying new things. We had often talked about a sabbatical year, and the time felt right to make a change.
How do you define and describe what you're doing—year off?  Sabbatical?  Career break?  What do you tell the people in your life and how do they respond? 
Rebecca is taking a year off from her job. Our boys are taking a year off from school. And I plan to continue working wherever the family happens to be – working less often when we're traveling.
Everyone who hears about it is very interested and excited about it. Common responses include:
That's great! Good for you guys! I'd love to do that! You're going to have a great time!"
This is a family journey, obviously.  Tell us about the steps you went through to make this happen, and if home schooling is part of the picture.
Rebecca and I have been married for 11 years. We have two bright and imaginative boys, Lucas (9 years old) and Eli (7 years old). I've been self-employed as a graphic designer for 20+ years. Rebecca is an experienced elementary school teacher.
We're both inveterate list-makers and planners. We have saved and inherited money, and share a vision for how we want to live as a family and as individuals.
Rebecca quit her job at a parochial elementary school. They have hired a long-term substitute for the year and would welcome her back (no promises, though).
Home schooling is definitely part of the picture, and another big motivator for embarking on this adventure. Both our boys test in the highly gifted range (top half of the top one percent). They liked their school, but it was increasingly difficult for the school – any school – to meet their needs. We liked the idea of home schooling better than any of our other options.
What have been (and will be!) the toughest obstacles—and how are you getting around them?
We feel both excited and scared, but well-suited, to challenge ourselves. While we've had far more good fortune than most, some of that comes from a willingness to take calculated risks:
What's the worst thing that could happen? What are the potential benefits?
Everyone thinks money is the biggest obstacle, but frankly, I'm more concerned about the changes for Rebecca than I am for the kids (or our bank account). The boys may miss some of the day-to-day contact with friends, but they'll be fine. Rebecca loses contact with work colleagues, and adds the role of teacher to her already established role as mother. I'll try to help with curriculum ideas and teaching as I'm able, but it's much less of a change for me.
Most important:  What are you and your family planning to do with the time; what are the goals and dreams, missions and visions?
We'll be traveling more often and for longer periods of time. To start the school year, we'll be in the Pacific Northwest – Seattle, the San Juan Islands, Olympic National Park, and the Northern Cascade Mountains. In Spring 2011, we're planning a 2–3 month trip to Europe. Likely destinations include France, Italy, and Spain. In between, we expect more trips to our cabin near Hayward, Wisconsin.
Our goals for the year include:
–      Giving more time to things that are important – family, rest, exercise, food.
–      We want our boys to discover the joy of learning and trying new things.
–      Rebecca would like to spend more time doing photography.
–      I'd like to spend more time writing.
We often enjoy time at our cabin because it's simpler. Less to do. Less stress. We'd like to find more ways to make that the rule rather than the exception. By stripping away conventional ideas about how one is supposed to do things, I'm hoping we find that this way of living is not only healthier and preferable, but sustainable.
What an inspirational story—full of adventure and dreams, but practical thoughtfulness too—and it's only beginning.  We'd love to check in later and hear how home schooling, road working, and Euro dining, is going (even if it makes us green jello).  Have fun and godspeed!