Puerto Rico is a legendary island of Latino culture and independence—surrounded by a sea of Caribbeanism. With 4 million residents, it's one of the most populated—and crowded—isles anywhere. Yet you can find a rain forest, nature preserves, private beaches, a thriving old town, and swanky night life. 
Not that I would know.
I experienced precious little of that.
Oh sure, I'd researched aplenty and was pumped about my must-see list.
But alas, we chose the mixed blessing of staying at the fabulous El Conquistador resort.
So it goes when the recession plunges occupancy rates down to 20%:
Four-star establishments get marked down to two-star prices (plus perks).
You practically own the place.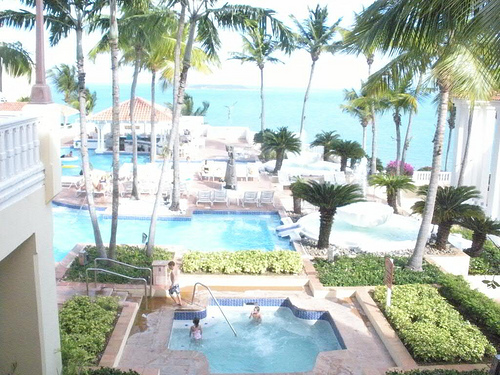 "It's For the Kids"
So went the logic of selecting this boffo extravagance—with its brand-spanking-new waterpark (within inches of the sea).
Who doesn't love to indulge their kids?
Spoiling them, however, essentially meant spoiling this vagabond's only chance to salsa the into night.
We were an hour away from most action, and sequestered into gated fabulousness.
All was not lost, though, as it was a luxury getting lost on the resort's private island, where ecstasy (the legal kind) is for sale.
So long afternoons featured snorkeling, kayaking, Heineken, plus relentless requisite ruminating about this 69-day Sabbatical.
And about the most disturbing distraction imaginable:
Going home.
Did I Mention Puerto Ricans Love to Party? 
I knew that—having seen their mass crews of multi-generation revelers barge in to many a V.I. bay through the years.

  

But when on their own soil, they really put on a show.

  

The entertainment one evening in a nearby village presented everything from hot-rod cruisers to packed public-square reveling.

 

              

 
Characters, Characters Everywhere
While technically a commonwealth of the United States, P.R. sure does strut its independence.
Heck, many folks don't even try to speak English.
And the music (sweet music!) provides a constant reminder of their contented isolation.
Yet their diversity runs a rainbow of skin tones.
If its local color you want, just open your eyes.
Next time…there WILL be a next time
A (really) good time was had by all, even though we may as well have been at Disney World.

  

Still, the long bus rides and brief encounters with the Real P.R. served up a taste.

  

Next time, I hope to hunker down and enjoy a feast.
When the BreakAway countdown is into its final hours, there's nothing wrong with throwing down the towel.

  

Pulling up a chaise.

  

And staring out to sea.

  

The journey is over, the motivation depleted.

  

It's been a lovely cruise.
Soak up the sun one last time and let the memories bake into the brain.