Kids pick up a lot by experience and osmosis. But picking up books along the way perks up their sense of place—and increases their vernacular vocabulary. Wandering in little island book stores is a treat, too. The better ones do a fine job of providing local lesson materials, and make book browsing fun. 
Here's just some of the stuff we've stumbled on that even the parents can appreciate…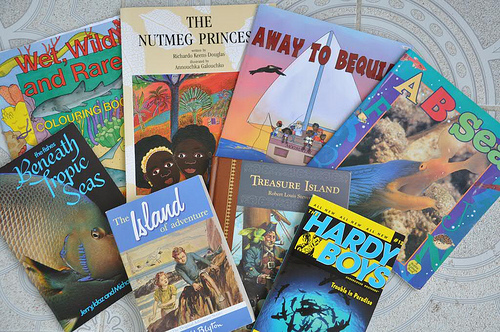 Children's Stories.  Often written with some dialect and new words, they bring a child's perspective to the big, old world.

  

"Away to Bequia" takes a quirky family sailing from St. Vincent to little Bequia.

  

"The Nutmeg Princess" features three haunting, local legends that make CurlyGirl's blue eyes go wide open.

 

Adventures.

  

AllBoy devours anything with some suspense and sea drama.

  

An adapted version of "Treasure Island" made him love a book his dad has never finished, while a Hardy Boys saga set on St. John brought new drama to familiar sites.

 

Reference sources.

  

Fortunately, the better places you stay have stacks of guidebooks, nature books, maps, atlases, and more.

  

We thumb through those, plus pick up the likes of "A B Sea" for the little one and "Beneath Tropic Seas" for the tween.
Art materials.  Just handing out paper and pens to the kids brings forth some impressive interpretations of fish, plants, and local colors.

  

A coloring book like "Wet, Wild and Rare" not only provides fun drawings, but brief copy about the wildlife (non-human) of the Caribbean.

 

Music.  Ears getting filled with song is the most ongoing and obvious proof that we're far away.

  

It's everywhere, all the time.

  

And although there is surprising variety, most of it is island-centric.

  

We pay attention in the buses and stores, go to hear it live, buy CDs, and even make our own with guitar and riddim instruments.