What a glorious Sunday!  Days like this—exactly like this—float like fantasies in the mind when one is plotting a BreakAway.  So when they finally happen, the pleasure feels both familiar and profound.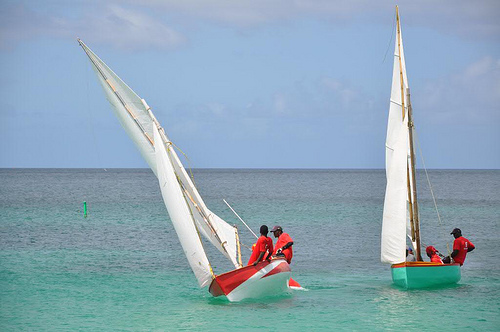 Grenada's sailing festival is a big event, running over several days, with yachties from all over the world filling the harbors, hotels, and bars. That's fun.  And in our resort, it was easy to make new friends.  Heck, a team from the Shetland Isles of Scotland invited me to join their team for two races.  Unfortunately, the timing didn't work out. Dang!
But the real action—at least for the locals—is the "work boat" races on Grand Anse beach.  These are traditional, home-made boats, with plywood for the body, bamboo for the mast, and sponsor-donated sailcloth for the one mainsail.
The towns and outer islands (Petit Martinique and Carriacou) race each other, and yes, there is rivalry!  The race begins on shore with a LeMans-style start, heads out to sea for three turns around buoys, and then returns to shore again.  When the boat hits sand, and a sailor scrambles out and crosses the finish line–and runs to the stand for a shot of rum–we have a winner.
The festival features all the sights, sounds, and smells that make events like these so sweet…
An MC sets the stage and keeps things moving and dancing; his subwoofer is the size of an SUV and keeps all three miles of the beach bobbing in riddim.
There are junior races (sorry, no rum for you), so the families can get giddy and noisy.
There are rivalries, sure, but also times when a whole team goes missing and the race gets delayed.
The occasional "man overboard" makes for lots of excitement, as the waterlogged sailor swims as quickly as he can to catch up with his craft.
Kids play in the sand and swim right around the start and finish lines and couldn't care less about no races.
Vendors line the beach selling bbq, oildown (the national dish), souvenirs, hand-made crafts, cold bevies, and lots and lots of beer.
Young men gather in groups under seagrape trees to catch a buzz and be cool.
Pale tourists chase around with bazooka-sized cameras choking their necks.
When it's time for this fam to sail away, this guy doesn't want to.  But our bags are again packed, and it's time to move to our next home in Gouyave, a little fishing village half-way up the island.