Getting to Grenada is not easy. Maybe that's why tourists are relatively rare, and an "undiscovered" label still sticks in most guidebooks. That's all good by me. We came here, 12 degrees north of the equator and not far from Venzuela and Trinidad, to find out if some authentic, old-world Caribbean still thrives.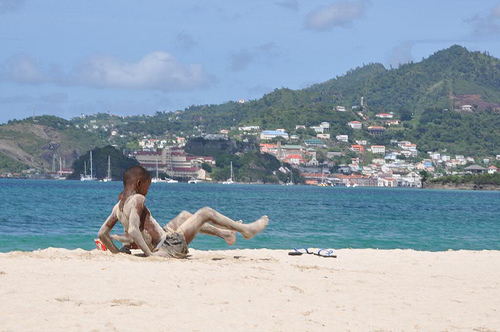 Good news:
It's alive.
The BreakAway timetable bestows us with about 27 days here, so much exploration lies ahead.
But the early impressions are pleasing and promising…
It's about the people.  Every reference source raves about the friendly, happy people.

  

Maybe all 110,000 of them aren't, but most I've met so far sure are.

 
They're landholders.  Grenadians love their land, and most of them own some.

  

That does a lot to keep pride up, crime down, standards high, and poverty low.

 

Size matters.

  

At 118 square miles of volcanic steepness, this place is expansive by island standards.

  

That gives it some added depth; the locals call inland "the country."

 
History.

  

Talk about color! 

 

This gem has had tribes fighting over it since the Arawaks and Carabs, then the French and Brits, and not long ago, a group of Cubans and Soviets.

 

The revolution.

  

Now, and for all of 35 years, this nation is independent!

  

There WAS that nine-year period of fledgling socialism, that led to a short but bloody revolution, that led to a short but successful 1983 intervention by US and others.

  

But since then, government has been quite stable, peaceful, and democratic here.

  

Folks love to talk (and chuckle) about it, and may mention acquaintances who were part of the drama.

 

Hurricane wreckage.

  

This island is allegedly off the main path and had seen no major storm since 1955.

  Oblivious to

 that, Ivan tore through here only five years ago, crushing most of the island into a dreadful disaster.

  

Though some destruction is still evident, the rebuild has been impressive and inspiring.

 
Education.  Most Americans wouldn't want to send their kids to school in the Caribbean–with one exception:

  

St. George's University has an oceanfront campus, a respectable medical school, a high-school program for residents, and 5,000 lucky students from all corners of the world.

 

Natural beauty.  Find it anywhere and everywhere here.

  

Diversity too, from inland lakes, rivers, and waterfalls, to craggy cliffs, rural fields, and 3-mile long beaches.
Quaintness.  They take their old-world Caribbean vernacular seriously.

  

Fat new-money homes are rare, as are sprawling resorts.

  

Instead, owner-occupied, charming little venues dot the waterside.

  

And houses come in rainbows of colors—though the red-roof tradition carries on.

 
Art.  Batik is big.

  

Face carvings and masks tell stories.

  

And bright paintings hang all over.

  

There's even a thriving arts and crafts market. 

 

It's as if Grenadians are trying to outdo each other sometimes.

 
Safety.  Practice good travel hygiene, of course.

  

But after that, this place has a rep that gives little to worry about.

  

I saw two uniformed police dancing at a packed event.

  

And one white local told of being the lone whitey entering a big cricket match.

  

When some teens with 'tude started harassing him, a crowd of older natives (all strangers) surrounded the bad boys and scolded them long and hard.

 

Food.  Necessity is the mother of all big gardens.

  

But they eat well and cheap here, thanks to plentiful fisheries, rich volcanic soil with organic gardens, and generous, tasty traditions.

  

Known as the "spice island," Grenada grows one-third of the world's nutmeg, and much of its clove, cinnamon, and more.

 
Tourism.

  

The revolution didn't help.

  

The hurricane hurt.

  

Two charter airlines just went bankrupt.

  

And remoteness rarely draws.

  

There's just enough tourism here to boost the economy, but not so much that it's choking the locals.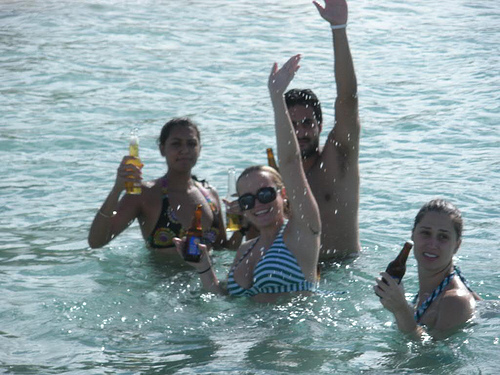 God Bless Our Nation.

  

So hangs a sign, in the flag colors, thoughout the island.

  

Manners matter.

  

Island and tourist dress code is not only in effect, but debated in the papers.

  

It can feel conservative to Americans, but these little courtesies stand for respect, pride, tradition, and preservation of something sacred.

  

God Bless Grenada!