After 18 dreamy days, it's time to depart this Paradise. Happily, the BreakAway is not over; we set sail for Grenada at 7 am. But like most packing days, this one brings waves of emotion that crash loudly like the Friendship Bay surf outside our door. It's doubtful we'll be back. And these precious days with the kids float away so fast.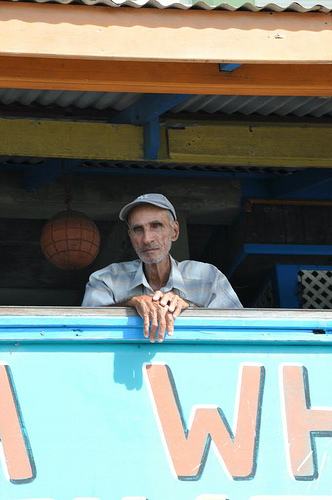 But today the overriding undercurrent is gratitude.  To the fates that brought us here, the Caribbeans who keep it real, and the experiences that lived up to my oft-unrealistic visions.  Bequia has been so generous with both rich encounters and easy living.  She's blessed us with a long list of experiences to be thankful for…
Kindness and generosity.  It would take pages to tell the tales of the beaming Caribbeans who would go out of their way to make sure you don't worry, are happy.

 

(Example?

 

As I write this, cabdriver Kenny just stopped by to drop off a beach mat we forgot in his car.) Many here have an inner bliss that shines like the sun.

 

It's a heartwarming thing.

 

Tradition.  Culture and lore thrives here, in many ways. Music, whether live, radio, or spontaneous.

 

On the seas:

 

Fishing, sailing, boat building, and even mini-boat building. Arts and crafts, from carving to painting to calabash bowls.

 

Even whaling happens, and you get the sense that the community anticipates that pageantry like Americans get all stoked for the Super Bowl.

 

Purity.  It's the name on one of the dollar busses.

 

And it's all around.

 

The locals still rule.

 

Roads are few and far between.

 

Houses only dot some hillsides.

 

And nature—as in greenery, fishing stock, sparse beaches, cool breezes, and odd critters—surrounds you.

 

And holds you.

 

And inspires you.

 

Skin color is rarely pure here; it comes in countless colors, which makes the people pure too.

 

Here, race rarely matters.

 

Safety.  Unlike many islands, this one has some money.

 

Not much poverty or too many people.

 

And plenty of pride.

 

So ramshackle shanties, abandoned cars, and derelicts (both boats and folks) are uncommon.

 

That makes adventuring much more pleasant—especially with kids.

 

Getting a laid-back groove on need not make you an easy target.

 

Media drought.  When scheming this trip, I sincerely proposed the family go somewhere remote and try a virtually media-free Sabbatical.

 

That plan fell flat.

 

Yet Bequia comes close.

 

Most homes don't do TV, magazines, newspapers, or computers.

 

Teens don't shut the world out with ear-buds.

 

Few folks are seen fondling their personal digitalia.

 

Heck, the best chef on the island bragged about being in Bon Appetit in 2005 and how it still brings in guests because it's online.

  

"But I never see it," he chuckles, "I have no computer."

 

Another day, one Rasta guy was intrigued with my Nikon, asked questions, and then said, "Take my picture."

 

He seemed spellbound as he stared at himself on the small, digital screen.

 

Why such media scarcity?

 

Many can't afford it, most likely.

 

But you also get the sense that they'd rather engage in live entertainment.

 

They prefer to BE HERE NOW.

 

Street talk.

 

It's like island smoke!

 

There are cell phones here now.

 

But most word travels by mouth, and possibly faster than phones.

 

So if you've business to conduct, your odds for success go way up if you show up.

 

Go downtown and it appears that some folks are involved with five conversations at once—as cars and acquaintances pass by.

 

Car talk.  You can tell how two people get along by how they react when meeting in their cars (which can happen a dozen times a day for some).

 

In descending order of affection:

 

Stop and chat (right in the road); Honk and wave; Honk OR wave; Nod; Ignore; Honk long and frown and furrow brows; Get in way or brush by close and fast; refuse to move if on tight road; roll up your dark-tinted window when you pass by.

 

Street preaching.

 

We're not in stoic, passive-aggressive Minnesota anymore.

 

At least once a day, I'd see somebody just standing on a corner (or in a bar or ???) yelling, preaching, ranting.

 

It's creepy at first, but then downright refreshing.

 

Let it go!

 

Living in the open.  Doors and windows?

 

Plenty, but typically sans screens. So you can see inside houses.

 

And what do you see?

 

Someone looking back at you!

 

Life is open here.

 

People sit around on porches, palms, curbs, and benches—and watch the world go by.

 

Bar ubiquity.  Little bars are hidden all over the place—sometimes called "step-up" or "step-down" bars.

 

Most folks who congregate there drink nothing, yet these neighborhood hangouts are often busy, even when they're closed.

 

Vendor mania.

 

You can buy fruits, vegetables, jewelry, art, and carved boats just about anywhere people gather.

 

Rental chairs, kayaks, and other essentials also abound.

 

Some things, like fresh fish, require much more work to score, but you surely can—and anyone you ask will want to help.

 

The best part?

 

Never once did a seller harass or get pushy.

 

Clandestine vendors.  It helps to know the language and have open ears.

 

But among other things, I was quietly offered (when dude saw my big camera) to be taken to a visiting celebrity,
"Hey, Paparazzi, I can't say who tis, but I kin take you to da superstar on de iulunn—just give me half of what you make." 
One had wine, "Good red, good white; check it—you look like wine-drinking man."

 

One just smiled, caressed his dreads, and asked, "Hybrid?"

 

"No thanks," I replied, "I need no alternative transpo on this island."

 

Coldness and stinkeye.  Sometimes service was slow, locals were ornery, and a few were just plain belligerent.

 

But I'm grateful because it reminds me no place is perfect—and there was more bark than bite.

 

This is their home, after all, and I'm just another passing thrill-seeker.

 

Scolding and shaming.

 

This can be that kind of culture, for sure.

 

And often, it's not pretty.

 

But much of it is in fun.

 

Some of it is earnest and enlightening.

 

And pretty soon, you learn to hold your own or, if need be, just take the medicine and forget about it.

 

Heck, maybe we could use more directness in our sometimes happy-slacky culture back home.

 

Music.

 

So sweet.

 

So omnipresent.

 

In the states, wherever you go, you hear the same damn songs over and over again.

 

Here, I'd never heard the vast majority of stuff.

 

They like it local, like it real:

 

Bob Marley, reggae, toasting, soca, steel-pan, early country, and intoxicating island riddims in as many colors as the Caribbean sea all around us.

 

Eatery fare.  It can be redundant, but it's typically healthy and good.

 

We're talkin':

 

BBQ, grilled fish, soups (calaloo!), rice, beans, simple vegetables, small salads, roti (curry roll-ups), and of course, wings and fries.

 

The local diet.

 

Hang out where people buy food, and see that most people instinctively eat well.

  

Few are schlepping packaged goods home.

 

No wonder most folks are svelte and muscular.

 

And as for cigarettes?

 

The rare trail of smoke usually leads to vacationing youth, Yachties, or Euro-party-monsters.

 

Fresh, fresh, fresh.  Fresh food is abundant, brought over from verdant St. Vincent.

 

People don't walk around sucking a Gatorade; they walk around munching messy mangos, plumrose, and passion fruit.

 

In a small store one day, four people were enthusiastically eating something I'd never seen.

 

I had to ask, "Whassat?

 

Looks good.

 

Want my children to try dat!"

 

They replied, "Golden apple.

 

Just in season now.

 

Take dese last 2 home and share.

 

They refused my money.

 

(And yes, they were yummy.)

 

The dialect.  English?

 

Me tink no.

 

On St. John, USVI, I can understand about half of the nativespeak—or they'll meet me halfway.

 

Here, not so much.

 

This patois still runs thicker than nutmeg jam.

 

And they've had less exposure to "culture" like movies and TV.

 

What's more, there are many generations of Scottish influence here; they speak with a Scot brogue atop the patois.

 

Misunderstandings happened.

 

And on some occasions, communication was reduced to gestures and pointing.
Freedom.  Here, it's not a military rationale, bumper sticker, or baseball anthem.

 

It's just free.

 

Police show up rarely, and aren't carrying much attitude or heat.

 

Traffic signs resemble rusty art.

 

Cars park anywhere.

 

People wander, smoke, eat, fish, swim, drink, and gather as they wish.

 

And if a party goes late and loud, so what?

 

Common sense rules, yet rules are rarely posted.

 

As the leader of this April's whale hunt proudly told me,
"This is one of the last places on earth were you can not only feel free, be you can live free.  If only for that, I hope you come back." 
I hope so too. 
Thanks, Mister Whaler.  And thanks, little Bequia.
(to see the complete collection of my photos from Bequia click here)