On islands everywhere, Sunday is Local's Day. Most shops are shuttered. Eateries open only limited hours. And folks of all sizes, ages, and colors congregate at the beach for an all-day affair. Tourists are welcome too, of course. But we may not know where to park, score the best table, or snorkel where the octopi are parading. 
On Bequia, the place to celebrate–and worship–the sun is on Lower Bay.  Or Low Bay, as the locals call it.  It's a dreamy scene.
  Let me take you there…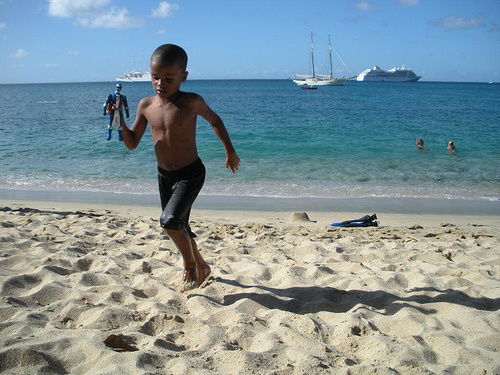 The water taxis come and go, cruising the shoreline for wayfaring fares, while the occasional "small" cruise ship looms in the distance, presumably disgorging passengers onto the island, though none are evident (thankfully) on this beach…
Local fishermen elbow-up at the bars and swill Hairoun (the local beer) while trading soccer bets, harmless insults, and fish stories.

 

Kids create stunning sandcastles, then await the waves or naughty boys that smash them.
Buff teen boys completely covered in sweat and sand compete in hard-core soccer matches using sticks in sand for goals.

 

Gregarious groups gather at tables and linger leisurely, like Parisians, for as many hours as they wish.

 

The smell of ganja wafts on the breeze; partakers don't hide it; nobody cares.

 
Aging ex-pats with sunspotted skin and strange accents exchange updates and photos of faraway grandchildren.

 

Entrepreneurial young men rent out kayaks and beach chairs (half price after 3!), rarely bothering to leave their own chairs to collect their goods or fees.
Gaggles of children from myriad neighborhoods and nations share beach toys and laughter and the universal language of play.

 
The sun shifts.  The waves crash.  And sudden conversations transpire—even for us—with people you've met before, who introduce you to the people they know, who introduce you to the people they know…
And suddenly, you're feeling like a local…