We done good.  Although the family obsessed and argued and made a science out of indecision when picking our places to stay, in this case, it was worth it.  This new temporary home is 2die4.  Opening the door, seeing the endless sea, and hearing the crashing-wave soundtrack instantly confirmed all hopes, and erased all doubts.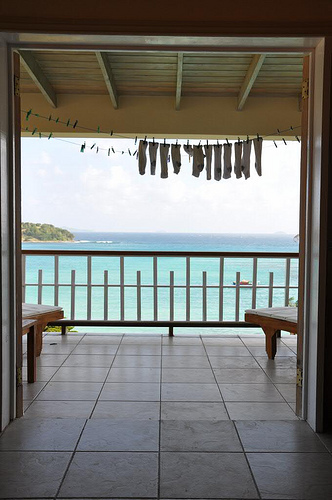 We're in the top level of a brand-new, 3-story condo on Friendship Bay.
The view is
that magical shade of teal; some rolling green hills and peninsulas; some shanties and villas and two hidden hotels (with way cool beach bars!); and some boobies and fishing boats bobbing in the bay.
And the best part?  We got a delicious deal, direct from the American owner (whom we "met" on TripAdvisor), because the place wasn't finished and on the rental market yet…
So while our temporary home may lack a peeler and beach towels and a functional ceiling fan (it seized up right after it was installed, according to the caretaker), it's impeccably fresh and well-executed.
The design is smart, the furnishings are tasteful and the deck is stunning.
  We lucked out.  
The kids know it too–and that warms the heart more than the sunshine that beats in nonstop.  They were giddy–dancing and screaming like Little League champs–for a long time after we moved in.  And it wasn't just the water and view and obvious stuff; they were even gaga about the mosquito netting on the shared bed, and jumped in and just played together (with no arguing!) all giggly for an hour or so.  (Then, of course:  CAN WE GO TO THE BEACH NOW?)  Yes!  
Forgive me if I refuse to leave this place and just keep taking the same pictures over and over…