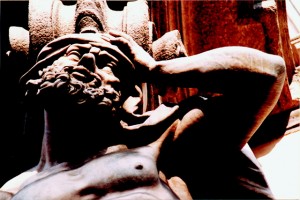 With just four days left until we depart, now is a good time to invoke one of the five five-word Sabbatical mantras,
Brazen optimism? You betcha. Pollyanna poppycock? No doubt. But I know this much: I'll be on a plane, God willing, four days from now–no matter what. Still, these are NOT the good times.
The kids' Christmas and other holiday specialness are nearly nonexistent. Guilt swoons. My childhood Christmas simple memories are priceless. Here, not one ornament hangs.
What we are leaving—friends, school, community, CurlyGirl's gymnastics passion, AllBoy's emerging basketball wowness—stares in the face and asks, "What are you thinking!?!"
The house is perhaps the worst mess ever. (And that's sayin' somethin'!) Where does one begin to organize and pack?
Still, these dark, inevitable moments are part of the price of admission. As are the reactions of acquaintances which have ranged of late from raging jealousy (I like the honesty) to rock-star awe to snarky scorn. When e-sharing my fears and frustrations with a friend the other day, the response was,
Next time you're having a bad day, don't e-mail me!
On that note, I'll shut up. This is the hard part. But like raking 55 bags of leaves before autumn's first snowfall arrives, you gotta slog through it. The joy of this BreakAway is nearly nonexistent. The anxiety relentless. Yet the odds of going are at a new high.
Once we get settled on a faraway island, perhaps I will be too.
ODDS OF GOING TODAY: 95%
ODDS THAT I'M GOING NUTS: 55%
ODDS THE EMOTIONS WILL FLOW LIKE A DIRTY FLOOD: 100%