Waiheke Island, New Zealand. We´ll be on the island of Waiheke for two months. And although we´ll probably always have plenty to say, it´s only appropriate to let some other people have a voice too. So we´ll introduce some sunny citizens of Waiheke from time to time. We begin with James, a hard-working and talented local gardener.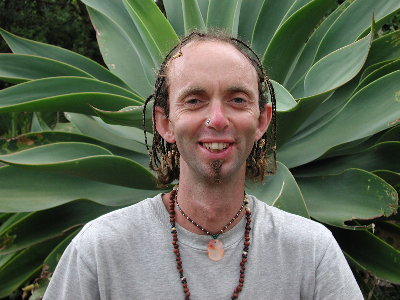 Q: So how did you get into gardening?
A: I just love plants. I did other studies. But someone suggested gardening for me as a form of healing, the plants really responded, and I´ve done it since.
Q: How many gardens do you tend?
A: 35. People keep recommending me and asking me to come back.
Q: How do you manage so many?
A: Fortunately, they´re all on the island"except one"that´s part of a marine sanctuary on Goat Island north of Auckland. Also, I just started employing someone.
Q: Still, how do you keep yourself inspired and fit?
A: You really want to know? Meditation. I meditate three times a day"about self-realization. Usually about a half-hour, but ten minutes will do it.
Q: Is it hard to grow plants here, since there´s no extra water?
A: Not really. You just have to make sure the plants are settled before winter. And know what plants will do well where. The winds and salt air near the beach make for a different environment than just one block inland.
Q: Have you always lived in New Zealand?
A: Almost. I grew up on the west coast, actually, where it´s much more rugged"with dark greens and black sand and intense storms. And I lived for a while in Switzerland.
Q: How long has Waiheke been your home?
A: Nine years. This is really my home now.
Q: Why?
A: It´s a magical place with so much spirit. The people are so diverse, friendly, and accommodating. You can be yourself. Someone with a million dollars and a big Jeep mixes with someone who goes barefoot.
Q: Is that part of being on an island, you think?
A: Island life is different that way. You have to chip in and care for one another.
Q: Are there any things about New Zealand you´d like to change?
A: There are probably some things to look at; we´re still a young country. We´re so far away and there´s so much room that we are a bit isolated. But that´s changing, I think.
Q: Do you have a computer to see yourself on our site?
A: No. I don´t even know how to turn one on! (Laughs.)
Q: Then please stop in and we´ll show you. Thanks for joining us.
A: It´s been my privilege.